Posted on
Murder of Vermont woman highlights serious problem – DRP Leader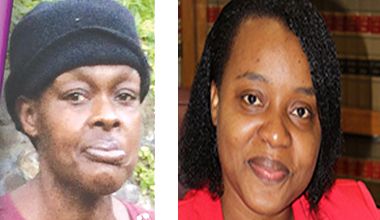 The murder of Vermont resident Sandra Browne highlights a serious problem we have in this country, that there is not enough respect for God given or inalienable rights and freedoms of all people among us.{{more}}
That is the view of Browne's niece, head of the Democratic Republican Party (DRP) Anesia Baptiste.
The outspoken Baptiste made her feelings known last Sunday, January 11, while speaking during a prayer and healing rally, which was organized by the St Vincent and the Grenadines Human Rights Association (SVGHRA).
Baptiste, who spoke at the rally, addressed the small crowd, about two hours after she had attended the funeral of her aunt.
Browne was mentally unsound and Vermont villagers say she was repeatedly sexually molested over the years. At around 1 a.m. Friday, January 2, Browne became this country's first homicide victim for 2015. Police responded to a house fire in Vermont and when the blaze subsided, they discovered the charred remains of the woman.
Baptiste, in her address, said that violence against women, girls and the disabled should not be taken lightly.
"I just came from a funeral, my aunt, my mother's sister on her father's side, Sandra Browne of Vermont. She was disabled and it was well reported that over the years she was sexually abused and lost her life under barbaric circumstances, where the perpetrator entered her home and demanded sex from her and proceeded to attack her companion who refused….he (the attacker) abused her, then set the house on fire," said Baptiste who revealed "We could not even view Aunty Sandra's body today and my poor mother has to live with what she saw, as in her remains."
Baptiste said that the incident highlights a serious problem in the country, "and as a young woman, a political leader, I condemn what happened to Sandra, but not only what happened to Sandra, but what has happened to other women in our country, girls, young boys even."
Baptiste said that she thinks many incidents go unpunished, as they are hidden from the public for one reason or the other.
"…a lot is hidden, a lot is in secret, because we talk about it, but not enough publicly. Whether it be incest, rape, buggery of young boys, teenage pregnancy, sexual harassment, and all these other evils which disturb our peace…."
The DRP leader asked, "So, what are we going to do about it?"
She said that she would like to see more political leaders conversing about these issues in a way to find solutions to address the problems.
"…instead of spending the time spent so often on radio, especially cursing out each other, why not address the horrors we are facing in these areas and actually talk about solutions to the problem?" asked Baptiste.
She added that the DRP has identified some areas that they would address if given an opportunity to be in government.
"We recognize that we need to have greater education, using the media and other outlets. Greater education in our society generally about God given rights and freedoms," noted Baptiste, who added that if people cannot respect God enough to realize that our fellow men have been created by him with certain inalienable rights and freedoms that they should not violate, then we are going to continue to have terrible violations of these rights and freedoms.
"Greater education is necessary in schools, freedom of association and assembly, freedom of expression, freedom of conscience and freedom of opinion. People fight because of disagreements and people don't want to help one another because they choose to associate with one party or the other. This is ridiculous. These are our God given rights and freedoms and also rights and freedoms that are protected by the constitution and we have to start teaching, our children about these rights, so that they can grow up with some certain sensitivity towards what the rights and freedoms towards each other are and have respect for one another as a result of knowing these rights," stressed Baptiste.
The former member of the opposition New Democratic Party (NDP) said also that locally, we need to strengthen legislation.
"We need legislative reform that would result in stronger laws, to address particular crimes with stiffer penalties against certain violent crimes. In reforming laws, we must educate the populace on what these laws say and let us put knowledge into the minds of the perpetrators and would-be perpetrators," said Baptiste, who opined that the smallest child should know what the law says about rape and what can happen to a person who commits these crimes.
"If they know that, they can have power in their hands to stand up and protest against certain actions against them," noted Baptiste, who is of the opinion that locally, we also need to improve and increase the adequate and relevant structures for the rehabilitation and support of victims.
"One crisis centre with 10 beds is not enough. A woman fleeing from domestic violence must be able to have immediate assistance. A woman who does not live with a boyfriend, but he unfortunately is abusing her, must not be limited to accessing a protection order because she is in what you call a visiting relationship. Our laws need to be widened to protect all kinds of victims."
She said also that there is a problem as it relates to the swift addressing of these crimes, while noting that she would love to see a way in which we can have our judicial structure give swift address to things like rape, as when crime is not addressed swiftly, persons feel they can get away with it.
"We must speak out more and spend more time in having valuable conversations because it is necessary for each and every one of us to play a role," said Baptiste.