Posted on
Local reporter scoops Queen's Young Leaders Award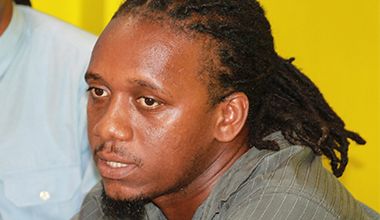 A Vincentian reporter is among 60 young people from across the Commonwealth who have been recognized as "exceptional leaders" in their respective communities, under the Queen's Young Leaders Programme.{{more}}
Twenty-eight-year-old Kenville Horne is one of four awardees from Barbados and the Eastern Caribbean to be given this award – making him among the first ever to receive the "prestigious" award.
Horne, a young father, was selected as winner for St Vincent and the Grenadines for starting a sports programme for disadvantaged children, helping them to reach their full potential, and enlightening them about the dangers of drug use and abuse.
As part of the award, winners will receive bespoke mentoring and online learning, provided by the University of Cambridge. Additionally, award winners will attend a week-long residential programme in the UK in June 2015, at the end of which they will receive their awards from Her Majesty the Queen, at Buckingham Palace.
The other winners in Barbados and the Eastern Caribbean were Donnya Piggott, from Barbados; Kellyn George, from Dominica; and Javon Liburd, from St Kitts and Nevis.
The 60 award winners, who are aged 18 to 29, are working to "support others, raise awareness and inspire change on a variety of different issues," which include education, climate change, gender equality, mental health and disability equality.
The Queen's Young Leaders Programme is a new initiative that will run from 2014 to 2018. It was established by the Queen Elizabeth Diamond Jubilee Trust, in partnership with Comic Relief and the Royal Commonwealth Society in "recognition of The Queen's lifetime of service to the Commonwealth."
Dr Astrid Bonfield CBE, chief executive of the Queen Elizabeth Diamond Jubilee Trust, said that young people in all spheres of life can transform communities and make societies better.
"What the 60 young people… have achieved is remarkable and their plans for the future are truly inspiring. The Queen's Young Leaders Programme is poised to unlock the potential of this diverse and talented group of young people, and we are delighted to be supporting them to go further and achieve more."(JSV)