Posted on
DRP Leader calls for independent investigation into Clare Valley accident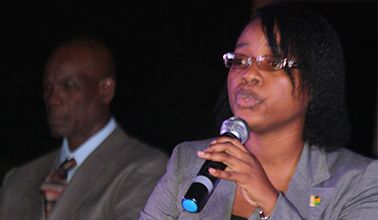 Head of the Democratic Republican Party (DRP) Anesia Baptiste has called for an independent investigation into the December 6, 2014 motor vehicular accident that claimed the life of Questelles resident Edgar Cruickshank.{{more}}
Cruickshank lost his life due to injuries sustained when a car crashed into persons attending a New Democratic Party (NDP) public meeting at the Clare Valley hard court.
In the wake of the accident, Antwone Quincy Anthony, a 39-year-old music vendor of Questelles, was on Friday, December 12, granted bail in the sum of $40,000 on five traffic charges in relation to the December 6 incident.
Anthony was charged with, among other things, causing the death of Cruickshank by driving motor vehicle P119 dangerously, at Clare Valley.
"I call for a thorough and independent investigation into the incident which resulted in his death, as well as the injury to other members of the public," said Baptiste last Sunday, while speaking at the Clare Valley hard court, where the St Vincent and the Grenadines Human Rights Association (SVGHRA) held a prayer and healing rally.
"I am very sorry for what has happened. It is important that there be a thorough and independent investigation into what happened in order to quell the concerns that have been raised by members of the public about just what happened and in order to ensure that there was no conspiracy involved," said Baptiste.
A number of persons have been entertaining the idea that the crash was a willful act.
On Friday, December 12, the Royal St Vincent and the Grenadines Police Force issued a report on the crash, which, apart from resulting in the death of Cruickshank, caused injuries to 10 other persons.
The report said that about 10:50 p.m. on December 6, motor vehicle P-119, which was at the time carrying registration number P-7516, driven by Antwone Quincy Anthony of Questelles, travelled from top Questelles towards Clare Valley. On passing Merline Hill, the vehicle's engine closed off but the vehicle continued travelling downhill for over 500 ft. Anthony reportedly lost control of the vehicle and it collided with a car which was parked in the vicinity of the public meeting.
It was also noted that at the time of the collision, Anthony's four-year-old son was a passenger in the vehicle.
The report noted that a series of inspections were conducted on the car by a Gazetted Motor Vehicle Inspector and revealed that the vehicle was registered as P-119 and not P-7516; the fan belt which runs the alternator was off and burst; the starter relay and starter fuse had been tampered with.
Anthony was later charged with fraudulent use of a vehicle's identification mark, failing to renew his driving permit on his birthday, using an unlicensed motor vehicle, using an uninsured motor vehicle and causing the death of Edgar Cruickshank by dangerous driving.
Anthony returns to court on February 05, 2015.
Meanwhile, Baptiste said that she was pleased to stand in solidarity with SVGHRA against crime and violence and in commemoration of Cruickshank's life, while she also expressed condolences to Cruickshank's family.