Posted on
Courts makes donations to six non-profit organizations, individuals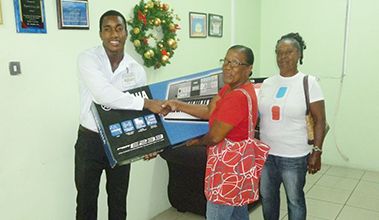 In keeping with its Corporate Social Responsibility programme, Courts St Vincent Limited has been busy contributing to a number of deserving individuals and organizations around St Vincent and the Grenadines.{{more}}
Over the Christmas season and into the New Year, the furniture and appliance store made donations to six non-profit organizations, including the SVG VSPCA, which received a donation of a blender for their fund-raising activity, as they try to reduce the large population of unwanted and uncared for dogs and cats in St Vincent and the Grenadines.
The presentation was made to president Lisa Walker.
Another donation was made to the St Paul's Spiritual Baptist Church of a Yamaha keyboard to be used in the church, as well as a donation of a printer to the Georgetown Technical Institute to Alrick Cuffy, the school's principal.
This institution provides skills training for the people of North Windward and beyond, as they embark on a literacy development programme, and were in need of a printer to assist with their administrative work.
A monetary donation was also made to the Mulberry Pre-school, as well as the Lions Club South, as they hosted their annual Christmas Party for approximately 270 children, as part of their community service outreach programme.
Earlier this week, a nine cubic foot fridge was donated to the Bethel Pre-school in Golden Grove, Chateaubelair, accepted by Norma Marshall, the school's supervisor, who indicated that the institution was in dire need of the appliance.
Also in the North Leeward area, the Jeffery family of Spring Village were the recipients of a queen-sized bed, after losing all their belonging in the 2013 December floods.
After a year of living with other relatives, the family home was finally completed recently, and the members returned home. Courts donated the bed, in an effort to alleviate some of the costs of replacing their lost items.
Also receiving an appliance free of cost was Calve Samuel, who won the MABE Washer he had purchased.
Courts commercial manager Lisa Veira indicated that Courts would continue to reach out to individuals and organizations in the various communities of St Vincent and the Grenadines as part of its Corporate Social Responsibility programme.