Posted on
Church leaders appeal for united nation at prayer rally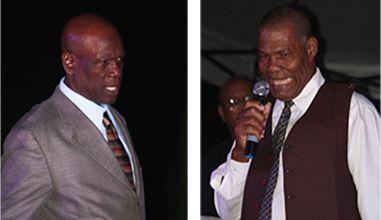 A number of church leaders have called on persons to become more involved in prayers, while embracing the family structure in continued efforts to right some of the ills in our society.{{more}}
The calls came on Sunday, January 11, at the Clare Valley Hard Court, where the St Vincent and the Grenadines Human Rights Association (SVGHRA) held a prayer and healing rally.
The event, which was plagued by heavy rainfall, was held in commemoration of the death of Edgar Cruickshank, who lost his life on Saturday, December 6, 2014, while at a New Democratic Party (NDP) public meeting at this same hard court.
Cruickshank was hit by a car that crashed directly into the crowd. A number of persons were also injured, but survived. Persons are still entertaining the idea that the crash was a conspiracy, but that has not been proven.
Nelson Samuel, an overseer at a local church, said that at times, tragedies seem to cause people to pull together.
He said that the loss of life and injuries during the December 6 incident was a tragedy, "So, it is good that we can come together and pray."
He added that there is a tendency for people who are hurt, whether emotionally or physically, to in turn hurt people; so, "it is important to applaud the Human Rights for doing this rally."
He told the small gathering of persons that, as a nation, we must focus on peace and getting rid of negativity by forgiving one another and coming together in prayer.
The overseer also noted that it is important for us to forgive persons who have wronged us.
"In most situations, it is not who is right and who is wrong, but what is the right thing to do. Ask yourself if you are healing or helping or hurting and hindering others," said Samuel, who stressed that evil can only be overcome with good.
"You must settle differences and disputes peacefully and spend energy moving forward," stressed the holy man.
Another speaker, Pastor Errol Fergus of the Bible Missionary Church in San Souci, said that he drove 22 miles to be part of the rally.
He noted that the event was called by president of the SVGHRA Nicole Sylvester, who is a lawyer, and that is significant.
"In my mind, we used to think that lawyers benefit from violence and crime, but a lawyer is here saying we are ready for peace, we want peace, we want to see a country and a people that are dwelling in peace," said Fergus.
The pastor said that the country has changed a lot in the past years, but we can get back on the right path through prayer.
Pastor Lloyd McBarnette of the Apostolic Faith Mission in Questelles said that in his opinion, "we have failed as parents."
He said that the Bible says that parents must lead children down a proper path, but a lot of parents are neglecting their children.
"When I was young living with my parents, I could not go to bed without saying my prayers, but now that is gone. There is no communication within the family. We need to have prayers in homes, schools, workplaces, we need to get back prayer. The kind of disrespect I see these days would never happen in my day," said Pastor McBarnette.
The event also heard from NDP vice-president and Member of Parliament for Central Kingstown, Major St Clair Leacock; leader of the Universal Peace Federation (UPF) Kay Bacchus-Browne; leader of the Democratic Republican Party (DRP) Anesia Baptiste and Pastor Lemuel Samuel, among others.
Leacock asked persons to take note and realize that oftentimes, the things that unite us are far greater than those that divide us, "so every opportunity that we have to demonstrate that, we should receive it with both hands."
Leacock added that in the political world, persons often find themselves segregated, but, "we must put aside politics at times" and realize that the 'raison d'etre' for being a politician is to help alleviate human suffering, while making the human condition better and aiding in human development.
"The interest of the people we serve must always come first," stressed Leacock, adding that as a politician, one must never lose sight of the fact that the country must come before the party.
He said that the NDP deeply regrets what happened on the night that Cruickshank lost his life, "and we wish that at all times, St Vincent and the Grenadines must be at peace."
Meanwhile, Bacchus- Browne commended the SVGHRA for hosting the rally, while she prayed for healing and peace in the country.
She said that the low turnout did not matter as, "we at the Universal Peace Federation have a saying, 'one plus God is the majority.'"
Sylvester (president, SVGHRA) thanked persons for coming to the rally and expressed condolences to Cruickshank's family.
During the rally, persons sang songs and were entertained by 'Bassy' Alexander on cuatro and Matthew Thomas on saxophone.
The rally ended with the attendees lighting candles and singing hymns.