Posted on
Tanty Naomi's Children's Christmas Party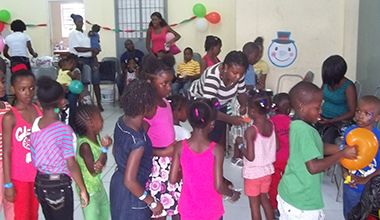 Close to 80 youngsters were last week treated to a fun day, dubbed the "Tanty Naomi's Children's Christmas Party," compliments the Cecil and Naomi Browne Memorial Foundation.{{more}}
The event, hosted by founders of the Foundation, a not-for-profit organization, was held on Sunday, December 28, in the village of Chester Cottage on the island's Windward coast and saw the youngsters, as well as their parents and guardians, participating in and enjoying games, carolling competitions, face painting and other events.
The celebrations culminated with school supplies being donated to the students.
Organizers say that they intend to host a similar event next Christmas, in memory of the late Cecil "Good Hope" Browne and Naomi "Tanty Naomi" Browne, both formerly of Lodge Village.
The Foundation intends to make a donation of reading materials to a local secondary school in March 2015 to commemorate the first anniversary of the passing of Tanty Naomi and Good Hope.
The Foundation is asking persons who wish to donate reading materials to the event, as well as schools who are interested in receiving donations to email the foundation at cnbmfoundation@hotmail.com.
The foundation also thanked individuals and other organizations who contributed to making its first event a success, including JG & Sons Ltd, Jax Enterprises, Edwin D Laynes, Jujube Bookstore, Premier Distributors, as well as to the individual donors of the event, Melissa Ganpat of Trinidad and Tobago and to the many relatives and friends who supported the venture.