Posted on
Fountain/Belair woman wins Courts' LG Christmas campaign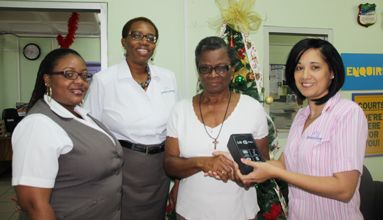 For years, Amy Richards has been a loyal customer of Courts St Vincent Limited, and has purchased furniture and appliances, electronics, and other items from the country's leading furniture and appliance retailer.{{more}}
This week, the Fountain/Belair resident was rewarded for her loyalty with the LG Flex smart phone, the world's first curved smart phone, after winning Courts' LG Christmas campaign.
Richards, who purchased an LG stereo system during the Christmas season to qualify for the draw, said that she felt good about her after- Christmas gift, which would replace her out-dated cell phone.
She said that the gift was an unexpected, but appreciated one.
"I am very happy about winning. I didn't really think I was going to win, but I hoped to win," Richards, a former teacher and head teacher said.
She said that this was the first time that she has won anything from the furniture and appliance store, and was very appreciative of the phone, which she said she intends to put to full use.
Before receiving her prize Richards commented: "I hope it is one of the updated ones; I always wanted to get one, so I am looking forward to using it."
Richards' prize was presented by commercial manager Lisa Veira, with Courts general manager Michelle Samuel and assistant commercial manager Indra Grant on hand to congratulate her.
Meanwhile, schoolteacher Ledson Jack won himself the ultimate Samsung Entertainment Package, as part of the Christmas campaign.
The Diamonds Village resident won himself a Samsung Galaxy S5, a Samsung tablet and a Samsung entertainment unit, after purchasing a Samsung Grand smart phone.
Jack and Richards are two of the many satisfied Courts customers who were rewarded for their loyalty to Courts over the Christmas season.