Posted on
PM asks why police allowed MP to drive unlicensed vehicle for five years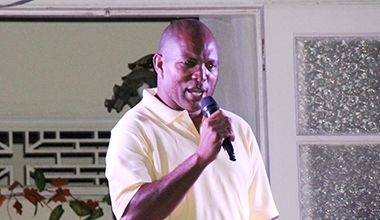 Prime Minister Dr Ralph Gonsalves has questioned why the Traffic Department of the Royal St Vincent and the Grenadines Police Force (RSVGPF) was not aware that parliamentarian Nigel Stevenson had been driving an unlicensed vehicle for five years.{{more}}
Last month, Senator Julian Francis disclosed, while speaking in Parliament, that an Opposition parliamentarian had been driving an unlicensed vehicle since 2009.
While Francis did not give a name, it was later revealed that the parliamentarian being referred to was Stevenson.
"There are persons in this country who, on a daily basis, deliberately defy the Government of revenue; deliberately and very serious, high placed individuals. There are persons who drive their motorcars, Mr Speaker, for months, for years, without licensing it," the senator said.
"People are not paying their licence," Francis said. "Mr Speaker, even in this House of Parliament, you have members who ain't doing that. Even in this Parliament, from 2009 until 2014, not a single cent has been paid on their car licence and they driving it every day."
Gonsalves was commenting on the matter during a press conference yesterday, when he disclosed that he was not initially aware of whom Francis was speaking.
"After he had finished speaking, he brought a document for me with all the relevant information and I thought that it was a matter with which the Leader of the Opposition should be advised. So I went…I tapped him on the shoulder, he sat down on the side next to me and I explained to him what the facts are…. He thanked me and I have no doubt that he subsequently spoke to Mr Stevenson," the Prime Minister said.
Gonsalves revealed that he has since been informed that Stevenson has admitted to driving an unlicensed vehicle and has explained the matter.
However, he questioned why the matter was allowed to go on for five years without being observed by the Traffic Department.
"I really don't know why the Traffic Department has not picked up on this. And that is a matter which the head of traffic and the Commissioner of Police will have to look into. I want to know what happened in the system," he said.
While he noted that it was not his place to approach the police and ask why they did not arrest Stevenson, Gonsalves outlined a number of laws which may be applicable in Stevenson's situation.
"As I recall, under the Motor Vehicle and Road Traffic Act, which I think can be found in volume 14 of the current laws…the penalty for driving a motor vehicle without licences; it ranges between 250 and 2,000 dollars. For that offence, there is no specific alternative in prison, where that is. But there is a general provision in the criminal code, section 29, where there is a schedule; if there is no mention of any alternative imprisonment, there is a schedule which says if it's 100, it's seven days and it goes up; I think anything over 2,000 is six months or something like that," the Prime Minister explained.
"But the offense which the court normally looks at in terms of traffic offences and I can speak as a lawyer; the offence which attracts a more severe treatment in the law and also by the courts, is the offence of driving a vehicle without an insurance. Once your vehicle is not licensed — I'm not getting into the facts of this particular case — if your vehicle is not licensed, even if you go and pay the insurance, the insurance is not valid, because a condition of the insurance is that your vehicle must be licensed and that person who is driving it also must be a licensed driver."
Additionally, Gonsalves outlined that the penalty for driving a licensed vehicle without insurance is $5,000 or six months in prison. Also, unless the court has evidence that there is a special reason why one was driving without insurance, the individual may be disbarred from driving for 12 months or may not be allowed to have acquire a driver's license within a 12-month period, if they do not hold one.(BK)