Posted on
Final census report to be released soon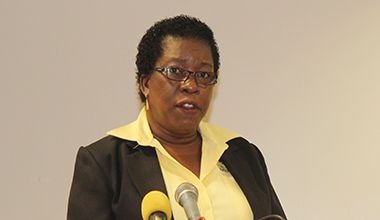 The final census report is in draft form and should be released "very soon."
In an interview yesterday, chief statistician Gatlin Roberts told SEARCHLIGHT that the report is being edited and should be published "early this year."
An update on the status of the census report was sought by SEARCHLIGHT,{{more}} after Leader of the Opposition Arnhim Eustace stated yesterday that he has no information "whatsoever on the work done in relation to the Census."
Speaking on the New Times radio programme on Nice Radio yesterday, Eustace said he is "at a loss to the exact status of that matter at the present time."
However, on June 19, 2014, Roberts released the 2012 Population and Housing Census Preliminary Report to the media, and on June 24, 2014, SEARCHLIGHT published a story on the preliminary census data on its back page.
The preliminary data was also published on the website stats.gov.vc.
Roberts said that the final report differs from the preliminary report in that it has more detailed demographic information, with the data broken down by educational background, for example.
She said even though the final report has not been published, the data is available.
Roberts said depending on what information is being sought, the data can be extracted and made available.
She also revealed that when the final report is ready, the housing and population census database will be uploaded to the website of the statistical department (stats.gov.vc) so that researchers could build their own tables and do their own cross tabulation if they need information that is not included in the final report.
According to the preliminary report released last year, the resident/household population in St Vincent and the Grenadines in 2012 stood at 109,188. Forty-nine per cent or 53,353 persons resident here at that time were females and 55,835 males.
As at June 12, 2012, there were 85 homeless persons in the country, 383 persons in prison, 287 in hospitals or nursing homes and 48 in other institutions or other special living arrangements.
The largest household populations, accounting for 46.1 per cent of population, are found in the most southerly part of mainland St Vincent, in Calliaqua, Kingstown and the suburbs of Kingstown.
The number of private households in St Vincent and the Grenadines at June 12, 2012 was 36,829, an increase of 20.5 per cent over 2001. Additionally, the average household size declined from 3.5 in 2001 to 3.0 persons per household in 2012.
The 2012 census data was collected after the Government was forced to redo the 2011 Population and Housing Census, because the data was damaged by fire after field workers had completed over four months of work and the data was being prepared for input and eventual analysis.
Prime Minister Dr Ralph Gonsalves said investigators had determined that the fire was caused by a fan which had been left on overnight in the Census Office.