Posted on
SNO seeking greater commitment from families in care of mental health patients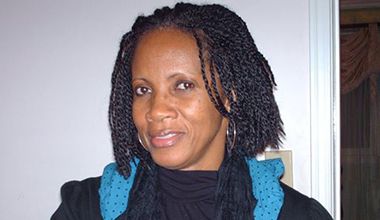 The move of patients to the picturesque and peaceful environs of Orange Hill in the countryside to facilitate the much needed renovation of the Mental Health Centre at Glen, has been deemed a success by all and sundry.{{more}}
The new facility offers more space, especially for chronic cases, for such individuals to recover.
As can be expected, there have been a few teething problems with the plumbing, transport concerns for the staff (this is cumulatively expensive), problems addressed and ironed out by new senior nursing officer (SNO) Diana Bailey and committed staff members.
The new SNO, previously employed as patient counsellor at the facility at Glen, has indicated that the renovations there "are progressing without any hiccups, and that progress is being monitored, to the conclusion that the facility will be relocated back in late 2015", without too much ado.
The new SNO brings to the position 17 years of experience, and her focus, as outlined by this interview, is educational outreaches to the community and more structured recovery for patients.
Armed with so much experience and a master's degree in nursing, Bailey says: "The objective is to transform the institution into a therapeutic community entailing structured activities that facilitate recovery, rehabilitation and reintegration into community (we want to enable change with a view towards this objective) there has to be a strengthening of stuffing in terms of specialization. The Ministry of Health is committed to providing us with more specialized stuff in the psycho-social area."
Bailey outlined that in this area "we cannot do it ourselves and we are soliciting community and private sector support in which the focus will be client centered and family cooperative."
She is calling for greater involvement with family and through community outreach.
One aspect in initiating the realization of this goal, as stated by the SNO is through education and the distribution and dissemination of information on the Mental Health Centre and engaging the public in ways in which they can support the institution and the centre on a national level.
She plans to achieve this with "structural follow-up, aftercare in the communities where clients live, so that it is easily accessible… the integration of mental health into primary health care…
"Mental health is about how people problem solve… indirect and self directed affirming acceptable behaviour."
With a view towards this, the SNO is seeking commitment from families (and related) persons to become involved in the care of loved ones, be more supportive of persons with mental illness, show them more respect. "Lots of times our clients (patients) do not remain well as regards the stigma, discrimination…" She is calling for change in the attitude of the public who demonstrate these negatives. She pointed to the examples of clients who "have been receiving treatment, and support (on the outside) functioning as responsible outpatients as proof that it can be done."
In examining another area of concern, Bailey links the problem of violence, crime, social ill (in which the mentally ill are involved) and how such impacts on social and economic development and wants to raise awareness to illustrate this.
"Change is imminent" says Bailey.
SNO Bailey certainly would seem to be one of the more committed SNOs (of which there have been four in the last two years) with a view towards patient welfare and lifting the views which erase acceptance and care for the overall mental health experience.