Posted on
Sion Hill Euphonium lights up intersection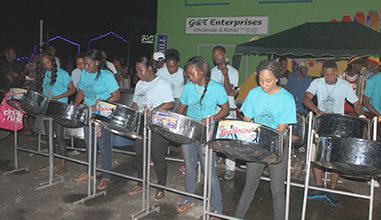 More lights and sounds via the glitter and melodic output added even greater radiance to the Sion Hill intersection on Christmas night, with the power provided by the Sion Hill Euphonium Steel Orchestra.{{more}}
As they belted out many of the traditional Christmas carols, blended with the contemporary up tempo parang style renditions, several persons from the community were attracted to the event. But other passersby and motorists, who were going about their usual business, also stopped by to take in the action.
Chairman of the Sion Hill Euphonium Warren Knights told SEARCHLIGHT that the decision to have the open air concert on Christmas night was hatched over five years ago, with the objective of giving back to the community for its unrelenting support.
Knights, however, acknowledged that the event is growing and is fast becoming an anticipated event on the organization's calendar.
He said that greater efforts would be made in 2015 to have the event spread so that persons outside of Sion Hill and its immediate environs could experience it.
Knights revealed that plans are in place so that the next activity on Christmas night 2015 will feature not only the steel pan, but other forms of entertainment packaged into the happenings.
A beaming Knights said that the Sion Hill Euphonium organization will soon begin putting together its calendar of events for 2015.(RT)