Posted on
LIME winners collect prizes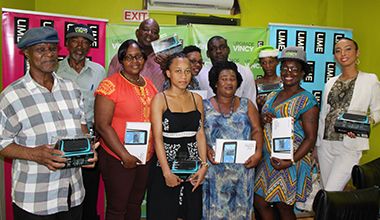 To date, more than 90 persons have received their prizes from telecommunications provider LIME, as the company's Upgrade Christmas promotion winds down.{{more}}
Winners of Fuboo portable speakers, Nexus tablets, and grocery vouchers turned up at the LIME headquarters in Kingstown last week to collect their prizes that were won after topping up their phones, upgrading their prepaid and postpaid plans, and paying their bills in full and on time.
The winners expressed their gratitude to LIME for the promotional campaign, which saw them receiving gadgets, and shopping vouchers, which they said would come in handy for the upcoming year.
More prizes, including the grand prize of a room makeover, compliments Fine Things, is still up for grabs by one lucky customer, when the final draw takes place next week.
Apart from winning prizes, LIME customers can also earn up to 50 and 100 per cent free talk time when they pay their bills in full and on time.
The LIME Upgrade Christmas promotion is part of the company's Upgrade Vincy campaign.