Posted on
Get Nice donates toys to less fortunate children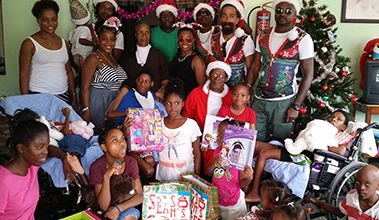 Huge smiles etched the faces of several children warded at the Milton Cato Memorial Hospital and the St Benedict's Day Nursery and Children's Home, when on Christmas Day, they were presented with gifts, thanks to the Get Nice Crew.{{more}}
The Crew, which comprises mainly Vincentians residing in Brooklyn, New York, said it was their way of sharing the joy of Christmas with less fortunate children.
Main organizers of the initiative Candace Gordon-Llewellyn and Sylvia Llewellyn said the group embarked on a toy drive in New York with the objective of donating to children here.
As a result, six barrels were filled with goodies and shipped to St Vincent and the Grenadines.
On Christmas morning, Santa and his helpers journeyed to Georgetown, where they distributed toys to approximately 30 children at the St Benedict's Day Nursery and Children's home.
Some of the group members said they were humbled by the experience and enjoyed interacting with the children and staff at the institutions.
Following their sojourn in Georgetown, the group visited the paediatric ward at the Milton Cato Memorial Hospital, where more presents were distributed to approximately 10 children.
The group then handed over the remaining presents to the children of Rose Place and it is their intention to present barrels to the Salvation Army Children's Home and the St John's Roman Catholic Church in Mesopotamia, respectively.
The Get Nice Crew says with support, it is their hope that the toy drive can become an annual event and that they can extend the Christmas joy to other children's organizations in the future.
The Crew thanked its members, non-Vincentians and Americans for their contribution to the worthy cause.(KW)