Posted on
Digicel in full support of charity event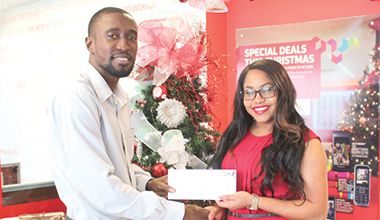 Two charitable organizations in St Vincent and the Grenadines will benefit from one of Digicel's latest collaborations.{{more}}
On Wednesday, December 31, Amgine Entertainment and Fuma Ultra Lounge held an Old Year's Night party which was sponsored by Digicel and the groups have promised that a portion of the proceeds will go to charity.
Marketing executive at Digicel Danielle Cupid said that Digicel is always willing to support entities that focus on giving back to the less fortunate in our society.
"When they approached us we were delighted that they were going to give a percentage of their proceeds to these organizations so we supported the venture," said Cupid.
Janielle Browne of Fuma Ultra Lounge said that the charities that will benefit are the St Benedict's Day Nursery and the Liberty Lodge Boys Training Centre.
"We will be giving food supplies to these organizations, as we know they exist to help those less fortunate than ourselves," said Browne.
The event which generated the funds that will go towards these charities was called "Resolutions" and was held at Surfside in Villa. Amgine Entertainment is made up of Naticia Lewis and Kevin Robinson, while Fuma Ultra Lounge has as its members Browne and Ifoma Sergeant.