Posted on
Digicel gives cash away to customers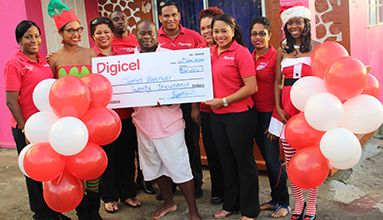 Alston Bowens of Petit Bordel wept tears of joy; Anita Thomas of Mayreau was extremely grateful; while James Spencer of Calder could not believe his luck.{{more}}
What the three have in common is that they are all winners in Digicel's 'Together we make Christmas Better' promotion, which awarded them with substantial amounts of cash during the month of December.
Bowens was the fifth winner in the promotion and collected his EC$5,000 on Tuesday, December 23, after simply talking for over five minutes on his Digicel prepaid handset.
His story is one that can bring tears to your eyes.
"I tell you I was relieved when I heard I win because a burden was lifted off my shoulder," explained Bowens who said that week before Christmas, he did some road work and did not get paid.
"I had no idea when I would get pay. I have three kids, a nine-month-old baby, a six-year-old and an eight-year-old, so my children wanted to go to town to shop and I did not get paid, so I could not take them, so I send them back home because I had nothing," said Bowen, who revealed that the children live with their mother.
"Winning the money, that was a relief to me, because I know how it is when you are a child and want to go to town. I did not have any money at all and when I won I took them to town and made shopping. In my home, we had nothing, no ham, no drinks, I was stranded and when I heard I had won, right away I believed," said Bowens, who noted that he was working at his farm in Belle Isle when I he got the call from the Digicel team.
"From since Digicel come in I was with them. I think the service is great and I am glad to be a first time winner. I can't say thanks enough; they helped me a lot; they made my day," stressed Bowens, who cried when informed he had won.
Meanwhile, Thomas, the sixth winner, was rewarded on Tuesday, December 23. The Digicel team stopped Thomas on the Kingstown wharf as she made her way off the Jaden Sun fast ferry.
"I feel very good winning this money because I have been with Digicel a while and I'm not working, but I always keep my phone topped up, so this is a blessing," said Thomas when told she had won EC$5,000.
"I'm going to put it aside until something come up," said Thomas.
Meanwhile, the grand prize winner, James Spencer of Calder, won himself EC$20,000.
Spencer was asked to come to Kingstown, Heritage Square on December 24 to be a part of Nine Mornings celebrations, but did not turn up.
He was told by the Digicel team, who wanted to surprise him, that he was one of four finalists chosen to take part in the grand finale for a chance to win the EC$20,000, when he had in fact already won the money.
"When they told me I was one of four, I know I have no luck, so I didn't bother come town. I said to myself I have no luck and I can't win that money, so instead of going Nine Mornings, I stayed home and slept because I was confident that I could not win," said Spencer, adding that when he was told that the Digicel party was coming to his home he said to himself, "They wasting their gas and time because I can't win so when they finish talking to me, I going back sleep."
Spencer said that when Digicel's Justin John told him he had won, he was still doubtful and thinking, "Why he saying that, he trying to trick me?
"Right now I feel grateful, this money really filling up some holes. I was real down in a hole with my baby coming and we did not have enough money to buy everything, so right now I feel real confident about everything," stressed Spencer who says that he is one of Digicel's first customers in St Vincent.
The bartender said that when he heard he had won, "I felt like I was dreaming; I think I was still sleeping. Is later in the day I realize I really win. I consider myself a bad lucked person and when I heard come town I figured I would end up with some consolation prize, so I was making jokes when I heard I am one of four because I know I bad lucked."
The other winners throughout the life of the promotion (who took home EC$10,000 each) were Cornelius Francis of Belvedere on Friday, November 21st; Antonia Robertson of Arnos Vale won on Friday, November 28th; on Friday, December 5th, Shenedon Adams of Union Island won; and on Friday, December 12th, Mashardo Abraham took the prize.
They were entered in the grand prize draw when they did everyday Digicel transactions like topping up EC$15 or more, paying their post-paid bill in full and on time, signing up for a seven-day 4G data plan or higher, or purchasing a 4G smartphone.