Posted on
Winners repeat in Bible Quiz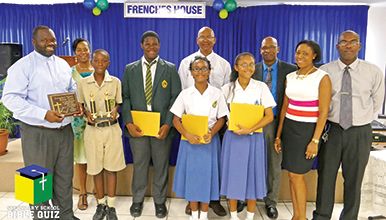 Outstanding School Award winner St Vincent Grammar School and Frequent Participant Award recipient Alexandria Bacchus won their respective awards for the second year in a row when organizers of the monthly Secondary School Bible Quiz (SSBQ) hosted the quiz's 7th Anniversary Awards Ceremony on December 10 at Frenches House, Kingstown.{{more}}
The annual award ceremony is organized to recognize the schools, students, and sponsors that contribute to the quiz's success by their participation and support during the quiz year, which runs from December to November.
St Vincent Grammar School had the most active student participation; the school received a plaque and $1,200. Alexandria Bacchus, from the St Joseph's Convent Kingstown, was the student with the most correct entries, which won her an Acer Iconia A1 Tablet and a $200 cash award. The other 2014 award recipient was Luke Mandeville from the St Vincent Grammar School who received the Acute Cosmetics Beginners Award, which comprised a trophy and $500. Runners-up in the 2014 annual award categories were St Joseph's Convent Kingstown, Judah Smith (of the St Vincent Grammar School), and Kyla Millington (of the St Joseph's Convent Kingstown) for the Outstanding School Award, Frequent Participant Award, and Acute Cosmetics Beginners Award respectively.
Jerry George, communications specialist, delivering the feature address, advised the students to live according to their own dreams, as they were all special and God, the Master Designer, already had a plan for their lives. Other programme items included a report on the quiz by organizer Joel Jack and a musical rendition by Nicole Clarke, a student of the St Joseph's Convent Kingstown. WEFM's consistent support of the quiz since its inception was acknowledged with a certificate of appreciation. November 2014 SSBQ winner Shakeem Pilgrim of the St Vincent Grammar School also received his monthly prize at the ceremony.
Coordinator of the Quiz Joel Jack posited in his report that "the best way to build a noble society of which we can be proud is to collectively and individually give this precious book [the Bible] the pride of place it deserves in our lives." While he acknowledged the achievements of the quiz during the year, he also expressed his desire to see it continue and become an institution among secondary schools' extra curricula activities in this country. Some of the successes were increases in various metrics that measure participation, an augmentation in the value of the monthly prizes, and an expanding social media reach. He ended his report by thanking the following corporate and individual donors for their support: Acute Cosmetics, Allan Smith Family Bakery, C.K. Greaves and Co Ltd, Courts, GECCU, Guardsman SVG, iMaculateiMagez, Jehann Jack, Right Stuff Ltd, Searchlight, Sentry (West Indian Insurance Ltd), St Vincent Automotive Cooperative Society, SVG Solidarity in Action Inc, and WEFM.
The quiz is designed to assist the youth of the nation to increase their love, knowledge and understanding of the Bible. At the same time it is intended to give them an opportunity to win useful prizes in a wholesome and positive way. (www.ssbq.org)