Posted on
Police Christmas caroling competition tonight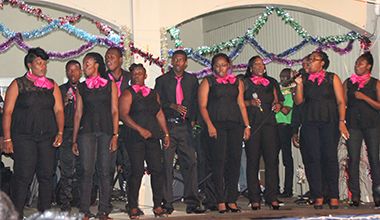 Central Police Station, Kingstown, will be home to a hive of activities today, Friday, December 19, with the staging of the annual Police Cooperative Credit Union (PCCU) Police Christmas Caroling Contest and the police cricket team's raffle of a grand prize of a Toyota Altezza car.{{more}}
Fifteen choirs representing the various departments of the Royal St. Vincent and the Grenadines Police Force and Police Youth Clubs will take the stage.
Nine senior choirs and six juniors will be participating this year. In the senior category: CPS Carollers will perform the renditions: "We Three Kings" and "We Wah Back We Parking Space"; CID- "Come All Ye Faithful" and "Crime Free Christmas"; SVG Port Carollers – "Hark the Herald Angels Sing" and "Port Parang Christmas"; Immigration Songsters – "O Come O Come Emmanuel" and "Immigration Ah Come"; Auxiliaries – "The Cherry Tree" and "This is the Season"; Caroling Soldiers -"Do You Hear What I Hear" and "Ham Eating"; Headquarters Carollers -"Little Town of Bethlehem" and "Watch Yourself"; South Central and Eastern Carollers -"O Beautiful Star" and "Tell It As It Is"; and Western Carollers -"Do You Hear What I Hear" and "Christmas Rock". In the junior category, Eastern – "A Star Is Born Today"; South Central – "So This Christmas"; Central – "Beautiful Star"; Grenadines – "Angels We Have Heard On High"; South Western – "We Three Kings" and North Western – "Do You Hear What I Hear".
The event is scheduled to take place at the Central Police Station in Kingstown, commencing at 7:30 p.m. The annual contest is one of the initiatives introduced by the police force to foster better relations with the public.
The traffic branch, SVG Port Authority, Customs & Excise Department are among past winners of the competition.
Western Carollers are defending champions, having won the contest in 2013.