Posted on
PM sends letters of congratulation to US, Cuban Presidents and the Pope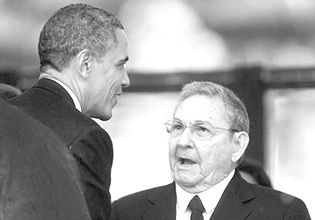 The Prime Minister has sent letters of congratulations to the US and Cuban Presidents and the Pope, lauding them on the roles they played in brokering the move to normalising relations between the US and Cuba.{{more}}
In letters dated Wednesday, December 17 – the same day that the announcement was made worldwide – Prime Minister Dr Ralph Gonsalves addressed President Barack Obama, President Raul Castro Ruiz and His Holiness Pope Francis expressing how pleased the Government and people of SVG are at the steps being taken to end the 54-year old trade embargo against Cuba.
To the Cuban President, Gonsalves said: "The historic announcements by President Obama and you… have lifted the spirits of all people of our Caribbean and our hemisphere."
Noting that SVG has enjoyed "close and fraternal ties" with Cuba since March 2001, Gonsalves stated that their multi-lateral bonds have been strengthened through the Cuba-CARICOM arrangements, the Association of Caribbean States, the Community of States of Latin America and the Caribbean, and ALBA-TCP.
"I am aware that challenges are still ahead… Nevertheless, I feel sure that… President Obama and you would lead in meeting these challenges successfully."
In his letter to President Obama, Gonsalves added: "Over fifty years of diplomatic and economic isolation between the USA and Cuba have caused much pain and suffering among the peoples of these two neighbours. The dramatic opening announced today… starts the healing of the fractures in our hemispheric family."
He further stated that he is greatly anticipating the Summit of the Americas which is scheduled to take place in Panama in April 2015, at which both President Castro and President Obama will be in attendance.
"I am reminded that great men make history, but only to the extent that the circumstances permit," noted Gonsalves. "Your appointment with history has arrived at a propitious juncture."
The Prime Minister also lauded the Pope for his role in mediating talks between the two heads of governments.
"Your own personal role in bringing about this historic rapprochement is a gift of grace from God. I am overwhelmed by the majesty of your intervention."
On December 17, Presidents Obama and Castro announced that the US and Cuban governments have taken steps to normalise relations between the two countries. These include easing of travel, banking and remittance transfer restrictions; removal of restrictions on US businesses that wish to operate in Cuba, and the release of "political prisoners" from both sides, among other steps.(JSV)