Posted on
LIME completes care caravan with visits to interior and windward coast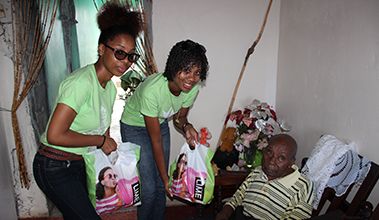 Sentiments of gratitude were once again heaped on the members of LIME staff, who delivered Christmas care packages to the needy on the weekend.{{more}}
This time, the words of appreciation came from the shut-ins, indigent and elderly residing on the island's windward coast and interior, where the telecommunications team spent their Saturday, interacting with people in the many villages that they went into to deliver the foodstuff and toiletries.
Recipients of the care packages hailed from the communities of Orange Hill, Langley Park. Chilli, Byrea, Chester Cottage, Biabou, Peruvian Vale, New Prospect, Greiggs, Mount Bentick, Mount Young, Cedars, La Croix, Mount Pleasant and Belmont, among other areas.
Once again, the beneficiaries, as well as their families and neighbours, lauded LIME for the initiative, which is now into its 15th year.
People pleased with the gesture indicated that they hoped LIME would continue giving to the needy, and promised to show their gratitude by switching to the network that gives to people who are unable to give back anything in return.
Some people also took advantage of the sales offered by the LIME sales caravan that accompanied the outreach team, getting 4G ready smart phones and trading in other phones all at reduced prices.
LIME marketing manager Nikala Williams said that this year's outreach venture was a tremendous success, which brought the team closer to people whom they would not have interacted with if not for the care crusade, and also brought them in touch with many of their valued customers.