Posted on
GECCU distributes food baskets to members in need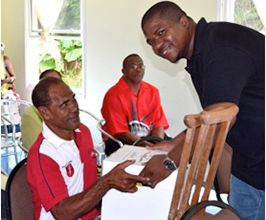 At GECCU's 37th Annual General Meeting held on May 13, 2003, a resolution was passed to establish a Social Development Fund. The purpose of this fund was to provide assistance to members who lack the financial resources to recover from an emergency such as fire, earthquake, hurricanes or serious illness.{{more}}
Since its inception, the fund has assisted hundreds of GECCU members during their time of need. $20.00 is transferred once per year from each member's account to sustain the fund which is available to all members of GECCU. The fund is managed by the Social Development Fund Committee which was appointed by the Board of Directors in accordance with the resolution.
Chairman of the SDF Committee, Michael Da Silva says "by contributing to the fund, each member is able to be his "brother's keeper" in a very tangible way. This is quite evident in our response in the aftermath of Hurricane Tomas, the Christmas Eve 2013 floods and in providing medical assistance to our members. The SDF Committee will continue to work towards the development of programmes that will enable it to respond to members' needs, should such need arise."
In 2014, the SDF Committee partnered with the 50th Anniversary Committee to assist in the distribution of 100 food boxes to GECCU members across St Vincent and the Grenadines. In June, members of the committee journeyed to Bequia and Union Island to distribute the first fifty boxes. The remaining boxes were distributed on the mainland on November 28 and December 5 at the NIS Golden Years Centres at Black Point and Cane Grove respectively. These activities formed part of GECCU's 50th Anniversary Celebrations which was celebrated throughout 2014 under the theme "'Proud of the Past….Prepared for the Future".