Posted on
Vincentian sails through Royal Navy training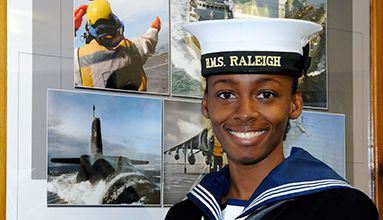 Tue Dec 16, 2014
A 29-year-old from Georgetown, St Vincent, has completed her transformation from a civilian into a Royal Navy sailor during a 10-week intensive training course at HMS Raleigh in Cornwall, UK.{{more}}
From day one trainee logistician Annesta Cyrus has been put through her paces, undertaking a series of physical and mental challenges in order to reach the essential standards required by every member of the Naval Service.
She has been engaged in team work exercises that mimic as much as possible the operations that the Royal Navy is engaged in all over the globe. As well as the basics such as marching and fitness sessions, Annesta has also learned how to handle an SA80 assault rifle, seamanship techniques and how to tackle floods and fires at sea. The course culminates in the passing-out-parade attended by families and friends.
Annesta attended the Georgetown Secondary School and was an accounts assistant before joining the service.
She said: "I joined the Royal Navy for the job stability, experience and to learn new skills. I also wanted to travel and for the adventure. The training was challenging and fun. It was exhilarating completing all the tasks. I now want to work my up the promotion ladder towards becoming a warrant officer."
With the first phase of her training complete, Annesta will remain at HMS Raleigh for the next stage of her training at the Defence Maritime Logistics School. There she will undergo a 12-week course to learn every aspect of stores accountancy. Once qualified Annesta will be responsible for ensuring that her ship has everything it needs to operate at sea, ordering and storing millions of pounds worth of equipment, from engineering parts to stationery.
The Royal Navy's Initial Naval Training course is underpinned by nine Core Maritime Skills that are the foundations of naval life and underpin operational effectiveness. Recruits are taught the basics of Naval discipline and customs. They learn about navigation and are given the chance to take the helm of their own medium sized inflatable boat during a waterborne orienteering exercise. Royal Navy personnel can also be called upon to play a vital role in land-based operations, so recruits undergo training in basic combat skills which includes survival in the field. Fitness is a key component of the training and is delivered using a disciplined method of military fitness which focuses on developing co-ordination and individual physical strength and endurance. As the course progresses the recruits take part in three extended exercises to test their skills and understanding of the principles they have been taught.
Details of career opportunities within the Royal Navy are available online at www.royalnavy.mod.uk or by calling the Recruitment Line on 03456 00 53 02.