Posted on
PM meets with unions to discuss wages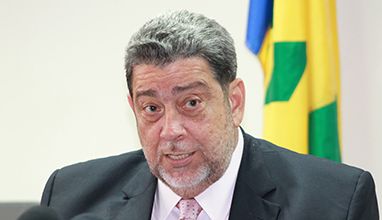 The Prime Minister has said that he will "consider" a request from the St Vincent and the Grenadines Teachers' Union (SVGTU) for a one-off payment to supplement teachers' wages.{{more}}
Speaking on 'Parliamentary Question Time – Ask The Prime Minister' which aired on Thursday, December 11 on three radio stations, Prime Minister Dr Ralph Gonsalves said that he had earlier that day met with several unions to discuss matters relating to "consideration of salary increase".
During the meeting with the SVGTU, the Public Service Union, the National Workers Movement and the Commercial Technical and Allied Workers Union (CTAWU), it was proposed that teachers be given a one-off payment of one month's salary (in some cases, half month) to cover periods of time when there was no increase in wages.
The Prime Minister, who described the meeting as "excellent", said that he asked for the request to be put in writing so that it could be given due consideration.
Gonsalves said that the unions' leaders are "balanced" and "rational" with regard to representing the best interests of their union members; and that they fully appreciate the challenges that the Government faces at present.
"They are naturally pleased that no jobs have been lost, and [that] we are keeping the business of government ticking over quite well," insisted the Prime Minister.
"The important thing is to maintain jobs and keep the programmes going… The public service unions know that they have been given a very good set of benefits and salary increases from 2002 going onwards."(JSV)