Posted on
Villa-Fountain community launches its neighbourhood watch with home security fair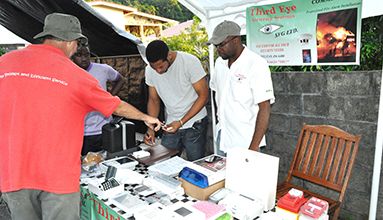 To commemorate the launch a barbecue and home security fair was held on Wilson Lane, Villa-Fountain Road. Companies such as, Guardsman, Third Eye, Edwin D Layne, Adams Engineering and the RSVGPF were invited to display items to enhance security measures. The neighbourhood watch signs, which were sponsored by the Blue Lagoon and Franco Construction Company Limited, were erected and smaller signs for registered homes along with data collection information that included names and numbers of all registered members.
The president, Lavinia Francis said, "We are encouraged by the enthusiasm of the members and the cooperation of the police, specifically, the Commissioner of Police Mr M Charles, Superintendent Browne and station sergeant Ballantyne". The president called on residents within the watch zone to register if they have not done so already. "Let us work together to decrease crime within the area by immediately reporting suspicious activities to the police and members of the committee, document all appliances' serial numbers within the household in the event they are stolen. Those who have overgrown unfenced lands within the zone are asked to keep the area clean and trimmed for clear view when our patrols start. No trespassing signs on these lands would also greatly assist us. She expressed that many times this is where criminals hide or use as an entrance and exit point or for hiding stolen merchandise.
"We appeal to our neighbours to be our brothers' keeper, to work together to take crime out of our neighbourhood."
The committee hopes to head up a drive dubbed "safety is everyone's business" in an effort to revive dormant neighbourhood watches and to encourage the start of new ones early in the New Year.
Bassy Alexander is a land surveyor, folklorist and social commentator.