Posted on
Digicel shares Christmas cheer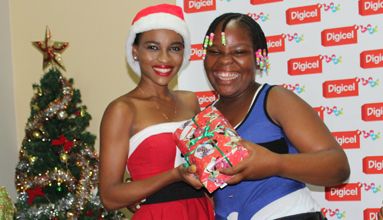 On Wednesday, Digicel staff members led by the company's marketing manager Juno DeRoche took the Christmas cheer to the students and teachers of the School for Children with Special Needs, Georgetown.{{more}}
During the midweek visit, which was done during the school's annual concert, the 24 students were all given wrapped gifts compliments Digicel.
The eight teachers at the school were also all rewarded when DeRoche and her team handed over to each teacher, smartphones and other gifts.
"We must commend and reward the teachers who come to work every day and work with the students," said DeRoche while praising the teachers.
She added that Digicel is committed to bringing the yuletide spirit to the students at the rural institution.
Principal at the school Arifa Charles thanked Digicel for their kind donations and noted that the school is always grateful to people and businesses that donate to them.
She said that it has always been the school's dream to have the compound properly fenced in their efforts to keep out people who 'lime' on the school compound after school hours and leave behind garbage and other unwanted things.
In response to this, DeRoche told Charles that in 2015, Digicel will fence the compound.
"We will fence the entire compound. We will provide the material and staff members will come out and do the work, but we want to encourage parents and other well wishers to also come out and help with the work once we begin," said DeRoche.
Charles said that the decision by Digicel to fence the compound represents, "a dream come through for us at the institution."
"I am very impressed and grateful. We could not ask for a better gift as it has always been our dream and it is about to come through," said Charles.