Posted on
New resident ambassador of Cuba to SVG presents letters of Credence to GG's Deputy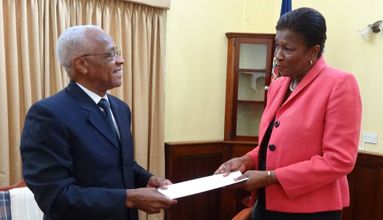 The new Resident Ambassador of the Republic of Cuba to St Vincent and the Grenadines, His Excellency Luis Castillo Campos, formally presented his Letters of Credence to Her Excellency Susan Dougan, the Governor General's Deputy, last Friday, December 5.{{more}}
A release from the Agency for Public Information said Ambassador Campos is a career diplomat with 30 years of experience. He was last posted in the Democratic Republic of Congo serving as Cuba's Ambassador to that country.
Campos is fluent in both English and French outside of his native Spanish and is married with four children.
"St Vincent and the Grenadines established diplomatic relations with the Republic of Cuba on May 26, 1992 and have made meaningful strides in deepening relations and cooperation with each other in the spirit of development, sovereignty and territorial integrity. In 2008 both countries entered into a technical cooperation agreement which provided the framework for the enhancing cooperation. Subsequently a Joint Commission was established as a mechanism to facilitate dialogue and to develop an effective strategy for deepening relations between the two countries in the areas of Education, Health, Culture, Sports, Trade, Transport, Telecommunication, Infrastructure and other areas of mutual interest," the release said.