Posted on
Multi-agency collaborative effort to measure coral reef health in St Vincent marine management area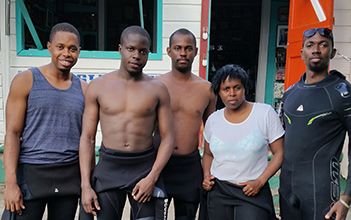 Tue, Dec 5, 2014
The St Vincent National Parks, Beaches and Rivers Authority, Fisheries Division and Coast Guard took part in marine data collection activities with Sustainable Grenadines Inc. on November 19 and 20 to assess the condition of two coral reef areas in the South Coast Marine Management Area.{{more}}
The South Coast Marine Conservation Area – SCMCA (to be operationalised in 2015) will encompass the coastal and marine areas of Indian Bay, Calliaqua Bay and Blue Lagoon, areas used extensively for fishing, tourism and recreational activities.
Spearheaded by the National Parks, Rivers and Beaches Authority, this data collection effort aimed to add to the information collected during monitoring efforts carried out in early October 2014 by a trans-boundary team of park rangers. The trans-boundary team (assembled by the Grenadines Network of Marine Protected Areas (GNMPA) for a reef monitoring expedition throughout the Grenadines) collected information from Indian Bay, at the western extremity of the SCMMA. This subsequent effort assessed two additional reefs: one near Young Island, at a coastal midpoint of the park, and another in Blue Lagoon, at the eastern extremity. These sites were selected in order to capture a more holistic view of the condition of reefs throughout the SCMMA.
"The participants included three staff members of the St Vincent Coast Guard. I also worked very closely with Mr Jeremy Searles from the Fisheries Division at every stage of planning and execution," explained Mr Myles Phillips, monitoring coordinator of SusGren. "The participants underwent two days of crash course, in classroom training, before one day in the water to assess their capabilities. On the final day, we executed our data collection at both sites as planned despite unfavourable weather conditions."
Andrew Wilson of the National Parks, River and Beaches Authority commented that "this exercise yielded tremendously useful outputs for us as the management authority for the SCMMA. We now have video footage as well as hard data which demonstrate the condition of the reef and the presence of critical natural resources, including a stand of the highly endangered and ecologically significant elkhorn coral. Such information will be of great benefit as we seek to address human impacts on this area, which is of great commercial, cultural and biological significance to our country."
The next stage of the work is to analyse the findings, compare them with past surveys and report back to the management authorities, local fishers and communities. Sustainable Grenadines Inc. will continue to work closely with the marine protected area and local communities as they consider appropriate actions based on the findings of the research. This research effort was made possible through sponsorship from the US National Fish and Wildlife Foundation. For more information, please contact Sustainable Grenadines Inc., Clifton, Union Island, St. Vincent and the Grenadines. Tel #: (784) 485-8779. email: susgrenpo@vincysurf.com.