Posted on
UWI makes connection between Science, Human Development in region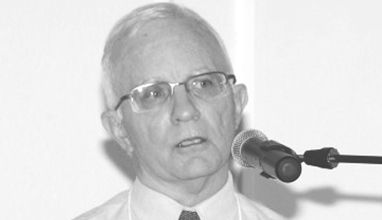 The University of the West Indies, Cave Hill Campus, is executing on the mandate set by its Principal, Sir Hilary Beckles, to promote science and technology as an economic driver within the Caribbean through its hosting of the 67th Gulf and Caribbean Fisheries Institute (GCFI) conference in Barbados.{{more}}
This was communicated by Dean of the Faculty of Science and Technology at the Barbados-based campus, Dr. Colin Depradine, as he spoke at the opening ceremony for the November 3 to 7 event at the Accra Beach Hotel and Spa in Rockley, Christ Church.
Dr. Depradine noted that the university's Centre for Resource Management and Environmental Studies (CERMES), which organized UWI's hosting of this year's conference, was one of the leading examples on the campus of scientific research being carried out in tandem with regional human development goals.
The GCFI conference under the theme: "Small islands, big issues: applying fisheries and marine science to solve problems and create opportunities" attracted over 200 regional and international delegates drawn from multi-disciplinary backgrounds including research in marine biology, law and socio-economics, as well as protected area managers, fisherfolk, multilateral agencies, and non-governmental organisations.
Keynote speaker, Dr. Robert Pomeroy, Principal Scientist at the WorldFish Center in Penang, Malaysia and Professor in the Department of Agricultural and Resource Economics at the University of Connecticut, emphasized that marine research had to be about linking science and people.
Dr. Pomeroy, who is also the Connecticut Sea Grant College Fisheries Extension Specialist, said small islands had a number of big issues that had a negative impact on marine resource management including weak governance, food insecurity and poverty, climate change, and changing ecosystems.
He highlighted the Caribbean Large Marine Ecosystem (CLME) project, in which CERMES is one of the key partners, as an example of how marine science can be applied to solve socioeconomic and governance problems and create development opportunities within the region.
Noting that most of the ocean space in the wider Caribbean had been overexploited, leading to declining fish catches and major shifts in biodiversity, with weak governance of marine resources as a root cause, Dr. Pomeroy noted that the partners engaged in the CLME would facilitate the creation of a regional ocean governance framework among the 26 countries and 19 territories within the project's scope.
In closing, Dr. Pomeroy called on the donor community to understand the important contribution that inter-disciplinary marine science plays in solving problems and creating opportunities for societies.