Posted on
Lions Club medical mission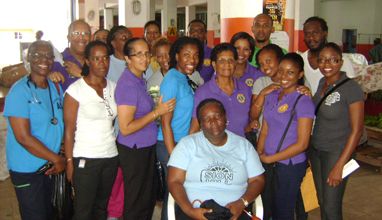 The Lions Club Kingstown SVG hosted a five-member team from Agape Samaritan International on a nine-day visit to St Vincent and the Grenadines as part of their 2014 Operation NINGO (Nations In Need GO) project.{{more}}
The team, which originated from the United States and Canada, was headed by Nurse Elizabeth Ashun and consisted of Dr Ama deGraft-Johnson, Nurses Helen McLennon and Terrie Russell and pharmacist Candice Essel.
The team visited two schools, the Division of Technical and Vocational Education and the Dr JP Eustace Memorial Secondary School, where a lecture was delivered by Dr Ama to students on working to realize their dreams. The students were encouraged to envision where they wanted to be and work towards the goals they had set. Staff at both institutions were also given blood sugar and blood pressure checks and were advised in the areas of stress management and nutrition.
The team, along with the Lions Club of Kingstown, conducted their bi-annual blood sugar and blood pressure checks at the Kingstown Vegetable Market on Saturday, November, 15. The checks screened over 125 persons and persons were advised in the areas of nutrition, with some being referred to see doctors about conditions they were unaware of.
In addition, the Lions Club and the Agape Mission handed over a quantity of supplies to the Milton Cato Memorial Hospital, the Chateaubelair Hospital and several clinics on the Leeward side of the island where the Kingstown Lions operate.
President of the Lions Club Kingstown SVG Lion Monica Glasgow reiterated that the mission of the Lions International was to serve and that the Lions Club Kingstown SVG was happy to host the Agape Mission. She thanked them for their support and partnership and looked forward to making the mission a biennial event. The Agape team left the state on Thursday, November 20.