Posted on
Courts ramps up Christmas promotions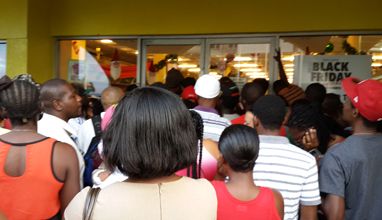 Furniture and appliance store Courts St Vincent Limited kicked its Christmas celebrations up a notch with the launch of its 'Make Your Christmas Wishes Come True' campaign on the weekend.{{more}}
Fresh on the heels of their highly successful Black Friday sale, which saw customers receiving huge discounts during the one-day shopping extravaganza, the store has opened its doors to Sunday shoppers.
Beginning last Friday, Courts intends to make the Christmas wishes of its customers a reality, by offering storewide deals on a wide range of furniture and appliances, new arrivals, and combo deals, and would be throwing a number of freebies and gifts to sweeten the deals, until Old Year's Day, December 31.
Some of the deals include a chance for customers to win an LG "G Flex" curved screen smartphone, with the purchase of LG electronics.
Plus, with the purchase of Samsung electronics, one lucky customer will get the chance to win a Samsung entertainment unit consisting of a Samsung Tablet, Samsung Galaxy S5 and a Samsung Mega Audio System.
To help customers with their choices, a 20-page brochure has been produced, which gives customers a look at all the deals available throughout the campaign.
Also to help the many valued customers, those making credit purchases for a 24-month period and more, would pay nothing down and pay nothing further until February 2015.
Apart from Sunday shopping, Courts has extended its opening hours for shoppers' convenience.