Posted on
Insurance veteran celebrating a half-century in the business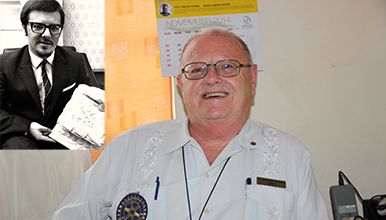 Veteran insurance broker Joseph Anthony Sheridan says that he is grateful to have arrived at a noteworthy milestone in his life and career.{{more}}
The Scotland-born Vincentian commemorates 50 years in the insurance industry next week, having joined the Sun Alliance Insurance Group on December 1, 1964, fresh out of high school at the age of 17. When most of his peers were uncertain about what to do with their futures, Sheridan decided to take a path that would lead him to these shores.
"I used to work part time at a bakery and the folks there wanted to hire me after school," Sheridan recounted.
"But my parents wisely told me instead of rushing into the first thing that came up, they said take your time and go into something that has a future, and insurance was regarded as a profession that's respected.
Sheridan, known affectionately by many as "Joe," told SEARCHLIGHT this week that the journey has been one of trials and triumphs, which has made him into the individual he is; a man who is always ready to serve.
After applying and being interviewed for a post in Jamaica in 1970, Joe was informed that an unadvertised opportunity had opened up in Nairobi, Kenya, and that his peers had the confidence that he could do the job.
That first overseas posting led to more assignments in Zimbabwe in 1979, followed by Malawi one year later, in the capacity of trainer or manager.
Joe finally got a taste of the Caribbean in 1982, when he travelled to St Lucia to recruit and train staff and manage the branch there, then over to Barbados two years later.
Things changed when he came "home" to St Vincent in 1987 to set up a new branch, and train in all aspects of underwriting and claims.
Here he met and married his wife Miriam, nee Francis, who encouraged him, over time, to start his own business.
"She has been my tower of strength; the wind beneath my wings over the years," Joe reflected.
"In the early stages, it was Miriam's salary at the then Kingstown General Hospital that kept us going. But she was always a source of encouragement and it was because of true love that I settled in St Vincent," he added.
That true love produced one offspring, Ian, who has followed his father in the insurance business.
In September 1990, Joe opened the doors of The Insurance Brokers on Egmont Street; it was the first independent professional brokerage Service in St Vincent and the Grenadines.
The business rapidly expanded and eight years later, The Insurance Brokers moved to the Hinds Building, becoming the first tenants in the building, even before electricity was connected.
The company now operates from its own premises, Swan House, in Paul's Avenue, where Joe and his team continue to provide what he calls unique service to their clients.
"We don't sell insurance, we like helping people. And we get tremendous satisfaction doing what we do.
When asked when he intends to retire, Joe said that he looks forward to working as long as he can; not necessarily in a leadership role, but as long as he is serving others in some capacity, he will soldier on.
Joe pointed out that he keeps in contact, as much as possible, with the persons he worked with, trained and encountered over the years, and shared anecdotes of a number of bizarre insurance claims he had helped clients with, including a vehicular "incident" with an elephant in Malawi, pulling a car from the sea in St Lucia, and lifting a jeep from the roof of a house in Glen, St Vincent.
Apart from assisting others by offering sound insurance advice and affordable premiums, Joe is also a longstanding member of the Rotary Club St Vincent, and a devoted member of the Catholic church.(JJ)