Posted on
Digicel customer wins $10,000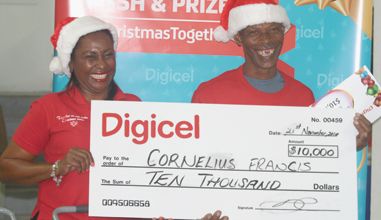 When Digicel customer Cornelius Francis of Belvedere received a call telling him that he was chosen to take part in Digicel's "Together we make Christmas Better" promotion, he was not all that enthusiastic.{{more}}
But that all changed on Friday, November 21.
Francis, who is a construction worker, is the first winner in the 2014 promotion and as a result went home from the Sunrise Supermarket in Arnos Vale with EC$10,000 more than what he came with.
"I feel good," said Francis, after opening an envelope and seeing EC$10,000 written on the piece of paper inside. He was visibly trembling.
"I feel really good, great, I have no real plans yet; maybe finish up my house," said Francis, who is a prepaid customer.
Francis was entered in the special draw that made him eligible to win the prize money when he topped up his cell phone.
On Friday at Sunrise Supermarket, Francis and three other persons whose names were chosen in a random draw earlier last week were asked by Digicel's Marketing manager Juno DeRoche to search through the Sunrise Supermarket for four specially marked trollies filled with groceries. They kept the trolley which they found.
Each trolley contained an envelope, while one of these envelopes, the one eventually found by Francis, contained the prize money.
The other participants were Dimeon Jordan (prepaid) of Mesopotamia, Nikeisha Lett (postpaid) of Barrouallie and Hazellann Hadaway (prepaid) of Largo Heights.
While the other three did not win the main prize, they were allowed to keep the trolley of groceries that they found. Jordan ended up with EC$500 worth of groceries, Lett with EC$300 worth of shopping and Hadaway with EC$200 worth of supplies.
While Francis was obviously allowed to keep the money he won, he was asked by Digicel to give his trolley of groceries to a random customer and, as a result, Branford Rawlins of Greiggs ended up with EC$200 worth of groceries.
Rawlins said that he was shopping for a number of items and it felt good to receive them free of cost.
"I am a Digicel customer, they are doing good things and I still have my first SIM card in my phone, although I have been a customer for a number of years," said Rawlins.
Meanwhile, DeRoche explained to persons that Digicel customers are entered in these random draws for the chance to win this huge cash pay-out when they do everyday transactions, like topping up EC$15 or more, paying their post-paid bill in full and on time, signing up for a seven day 4G data plan or higher or purchasing a 4G smartphone. You also qualify when you join the Digicel family by purchasing a SIM card, while customers are also entered in the draw when they receive a top up of US$20 or more from overseas.
The second promotion winner will be decided today, Friday, November 28 at Sunrise Supermarket.
Also, on Friday, December 5, Friday, December 12 and Friday, December 19, lucky persons (one each day) will also win EC$10,000. On Christmas Eve, December 24, a lucky person will take home EC$20,000.