Posted on
Canouan Government School wins Southern Grenadines Spelling Bee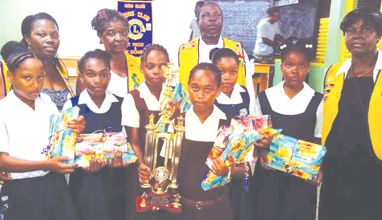 The Canouan Government School copped the Jean-Marc Sailly challenge trophy on Friday, November 21, after participating in the Southern Grenadines Spelling Competition 2014, organized by the Union Island Lions Club.{{more}}
This is the first time the school has emerged on top since participating in the competition over the past four years. The Mary Hutchinson Primary School took second place, while the Stephanie Browne Primary came in third.
Making her school proud, Sinae Baker from the Canouan Government secured confidently the top individual speller position, with Kerisha Lewis from the Mary Hutchinson Primary School placing second and Shequana Hazell from the Stephanie Browne Primary placing third.
The winners were awarded with electronic tablets for their achievement. The other participants in the competition were Jaida Jack from the Canouan Government, Nesica Bobb of the Mary Hutchinson Primary and Morfillya Turtin of the Stephanie Browne Primary.
The Union Island Lions Club Southern Grenadines Spelling Competition took place at the Mary Hutchinson Primary School in Ashton, Union Island. It featured six Grade 5 students representing three primary schools in the Southern Grenadines zone. The competition seeks to give the students exposure and also to prepare them for other competitions on St Vincent of that nature.
Last year's winner, Angeli John, representing the Stephanie Browne Primary, went on to win the Rotary/Scotiabank Spelling B Competition hosted by the Rotaract Club of St Vincent.