Posted on
Opposition Leader concerned over SVG's bond rating downgrade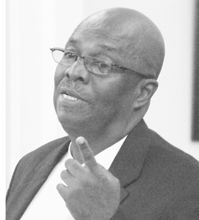 The recent downgrade of St Vincent and the Grenadines' bond rating by Moody's Corporation signifies that the country is not doing well economically.{{more}}
This is the view of the Opposition Leader, Arnhim Eustace, who commented on the downgrade yesterday, while speaking on the New Times radio programme.
On Sunday, it was announced that St Vincent and the Grenadines' government bond ratings were downgraded to a B3 from a B2 rating, therefore changing the outlook from stable to negative.
"The outlook they indicated in relation to St Vincent, it has changed from stable to negative. They changed our rating from stable to negative, so our situation continues to worsen. There are 21 levels that you can fall into in terms of how serious the situation is and we're at number 16 out of 21. They are rating, including government bonds and generally the state of the economy when you look at it. When you have that negative rating, people look at your economy as something that is drifting, not performing well," Eustace, an economist, said on Monday.
The Opposition Leader declared the situation to be a "serious matter" and further stated that this development will cause persons to question whether or not they should invest in this multi-island state.
"They are concerned about our economic stability. That is the problem. It's a serious matter you know. We tend to overlook these things here in St Vincent and the Grenadines. The time has passed when we overlook these things. They all have implications for our people," he said, noting that the country was also downgraded in 2013.
"Yet, the Prime Minister is saying that we're doing well," Eustace said. "I see them interpreting some of the statements that the IMF (International Monetary Fund) made as we're doing well. We're not doing well. This place is catching hell."(BK)