Posted on
Countdown to Youth Fest 2014 begins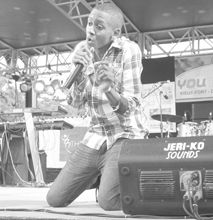 Youth Fest 2014 auditions are underway as St Lucians and Vincentians are gearing up for the 11th annual Youth Fest. The showcase of youth talent takes place on Sunday, December 21 in Vieux Fort, St Lucia starting at 2 p.m.{{more}}
The first leg of the St Lucia auditions took place in Vieux Fort on Saturday, November 15, with an impressive turnout of talented youth artistes. The second session was held in the north on Saturday November 22 at the Vide Boutielle Cultural Centre from 3 p.m.
Artistes from St Vincent and the Grenadines are also preparing to showcase their talent at Youth Fest 2014. The St Vincent Association of Music Professionals is organizing the auditions at the Peace Memorial Hall in Kingstown. A large number of artistes turned up for the November 15 session and an even larger contingent is expected to compete on Saturday, November 22.
Artistes, promoters, managers and other music professionals have an opportunity to experience up and coming youth talent on Saturday.
Youth Fest 2014 focuses on the YOUTH STAR COMPETITION, with 32 singers competing in three categories, namely: JUNIORS (aged 12 and under) TEENS (aged 13-19) TWENTIES (aged 20-29) and for the coveted title of YOUTH STAR 2014, with lucrative cash and other prizes.
Youth Fest 2014 will also feature a DANCE COMPETITION, MODELLING, and leading Caribbean artistes. For the second consecutive year, artistes from St Vincent and the Grenadines (SVG) and their supporters will travel to St Lucia on a EC$125 all-inclusive return trip to participate in the annual competition.