Posted on
Another house at Clare Valley to be demolished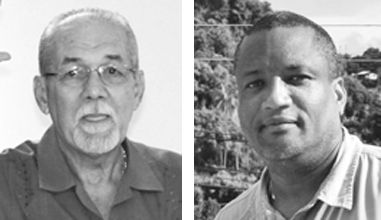 In the midst of remedial work being carried out at the Clare Valley housing development – following the collapse of a house on September 19 – it has been announced that a second house will be demolished.{{more}}
Speaking with SEARCHLIGHT, Julian Francis, Minister of State within the Ministry of Works, confirmed that an "at risk" house will be torn down, and that the family it belongs to has already been rehoused temporarily until it can be rebuilt.
Francis explained that in conducting excavation work necessary to build a retaining wall in the area, the soil has shifted even more and is now threatening the house's foundation.
"It is for the best," said Francis. "Before anything else happens, we thought we would take [the house] out."
Previously, as reported in SEARCHLIGHT'S November 7, 2014 edition, lead engineer Dexter Gellizeau had said that removing the family from the residence was a temporary, "precautionary measure," to allow for excavation in close proximity of the residence.
Francis said that the family's house will be rebuilt on another plot of land at the Clare Valley housing development.
"I've spoken to them and asked them to select a spot of their choice," he stated. "They will select a spot as to where they want the house rebuilt."
He was also quick to mention that none of the other houses at the site will need to be demolished.
"We are now currently working on about 15 [houses], reinforcing the column footings and so on."
Along with work being carried out on the houses' foundations and surrounding drainage, the team will also be carrying out reconstructive work on the interiors of the houses that require it.
It is estimated that all remedial work at the housing development will take approximately six months to complete.(JSV)