Posted on
SVG Consul marks National Day of Remembrance for Vincentians and the Caribbean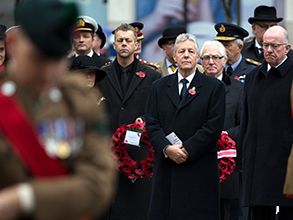 Belfast, NORTHERN IRELAND: On behalf of the Government of St Vincent and the Grenadines (SVG), Dr Christopher Stange, Hon Consul for SVG to Northern Ireland, laid a wreath at the cenotaph within Belfast City Hall's grounds.{{more}}
Among others whom laid wreaths were Her Majesty's Lord Lieutenant of Belfast Fionnuala Jay-O'Boyle; Secretary of State for Northern Ireland Theresa Villiers MP; First Minister of Northern Ireland Peter Robinson MLA; Ireland's Minister of Foreign Affairs Charles Flanagan TD; Lord Mayor of Belfast Cllr Nichola Mallon and other dignitaries, alongside service organizations.
The Act of Remembrance is organized by the Royal British Legion and Belfast City Hall to commemorate the sacrifices of the servicemen and women of the British and Commonwealth forces.
Dr Christopher Stange said: "It is important that we remember those brave individuals who made the ultimate sacrifice in two world wars to defend our freedoms or whom have been killed or injured in more recent conflicts. The Government of St Vincent and the Grenadines is proud of all those Vincentians that have served or serving in the British Forces, many whom are based across the United Kingdom (Northern Ireland and Great Britain)."
A two-minute silence was observed by military veterans and senior officers, political and religious leaders and Commonwealth dignitaries.