Posted on
Digicel SVG launches Christmas promotion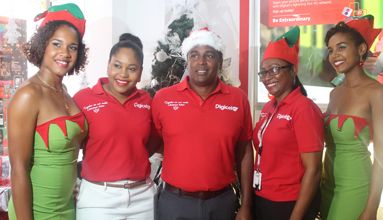 Last Friday, the telecommunications provider officially launched their Christmas promotion, declaring that "Together, we make Christmas better." This season, Digicel SVG is giving all Vincentians the opportunity to win $10,000 weekly. On the sixth week, one lucky person will win $20,000.
This Christmas will be the first in SVG for country manager John Gidharry. In his remarks, he expressed the hope that Digicel will make the season even better than it has been in previous years.
"We've had several gifts and we've had promotions for all our Christmases over the last 13 years and I'd like to say that Digicel continues to make it better and with $200,000 in cash and prizes this Christmas," Gidharry declared.
"We think every Vincentian will have an opportunity to actually avail of $10,000 cash weekly and prizes when you actually top up $15 or more or you pay your bill on time and in full, as well as if you buy 4G service or acquire any one of our smart phones."
The country manager highlighted the company's policy of giving back to the community and stated that while it is done throughout the year, Christmas is the perfect time to truly show appreciation to customers.
Dealer accounts executive Fanta Williams encouraged persons to visit the Digicel stores during the Christmas season, as it will afford customers a greater opportunity of benefitting from the promotion.
"We're asking you to visit our stores over the Christmas season. It is the greatest opportunity for you to learn everything that is happening in Digicel; all our wonderful promotions, all our wonderful opportunities, all our great products and services that we provide," Williams said.
"In terms of our Christmas promotion, you don't have to do anything special. You're doing what you customarily do as a customer. You're topping up $15 or more, you're purchasing whatever data plans, you're purchasing whatever data capable devices. Every week somebody is going to win $10,000 and on the sixth week, somebody is going to win $20,000. Money speaks volumes and we'll be giving cash to customers this year that will allow you to enrich your Christmas experience with your families and your friends. In addition to that, we're also going to have weekly prizes; when you dip in the treasure chest, you'll be getting a myriad of different prizes. It could be free credit, it could be free data. We also partnered with a number of businesses here in St Vincent and the Grenadines, so you may be getting a spa treatment, you may be getting a discount at Coreas, and you may be getting something from Aeropost; so there is a lot of value that is built into this Christmas promotion this year. If you are unsure of what you need to do, you visit our stores. Our staff is ready to walk you through a wonderful Christmas experience this year."
Customers are also encouraged to be a part of Digicel SVG's Christmas ad campaign, by uploading a six to 30-second video clip to the company's social media pages: Digicel SVG on Facebook, Twitter and Instagram. These videos will be featured in the ad campaign on December 24. (BK)