Posted on
Advocates Caribbean hosts conference on 'fundamental rights and freedoms'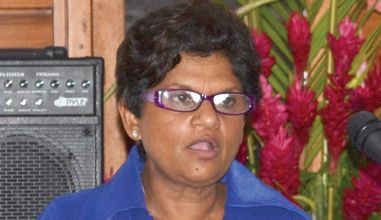 The keynote speaker at last weekend's Advocates Caribbean's fourth biennial conference advised participants to "see beyond the peripherals" in order to properly address and deal with the fundamental rights and freedoms of Christians in the workplace.{{more}}
The conference was hosted by Advocates SVG, a local chapter comprised of Christian lawyers, and opened on Friday, November 7, at the Beachcombers Hotel, under the theme 'Fundamental rights and freedoms: free indeed?'
Keynote speaker Reverend Dr George Frederick spoke of the current global trend of disregarding Christian values, and likened many persons who are doing so to holographs – being "empty and fake."
"Man is on his own again, trying to redo, the Tower of Babel," lamented Frederick. "Fighting the status quo, and a lot of people are engaged in holographic behaviour."
He added: "If we are going to deal with fundamental rights, we have to be prophets who can see beyond just the peripherals."
Also addressing the conference was Justice of Appeal (Trinidad and Tobago) Alice Yorke-Soo Han. She said that this year's conference explored religious rights and freedoms "in light of the growing global challenges" to the Christian faith.
Citing an estimate from international Christian organisation Open Doors, Yorke-Soo Han said that approximately 100 million Christians around the world had suffered religious persecution in 2013 – mostly in Muslim states.
She further called on all Christians to get involved in countering this issue, whether or not it directly affects them.
Pastor Frederick said that it is necessary for Christians to allow God to define their lives so that they can address these "complex questions of fundamental rights and freedoms."
"We are looking for the wrong things in the wrong places, and perhaps at the wrong time," he asserted. "Make sure your vision is clear; make sure your doctrine is clearly defined. Make sure you understand who you are, whose you are, why you are here, and we [can] begin to respect each other."
Frederick added: "May this conference send a note, may it create a highway for the glory of God to flow, and men can see who [they] really are."
The conference, which continued on Saturday, November 8 and Sunday, November 9, was also addressed by UK lawyer Paul Diamond, who has a wealth of experience "defending religious liberties" in courts across Europe.
Deputy executive director of the global council of Advocates International Ruth Ross spoke on 'Contending for your faith;' and Hyacinth Griffith presented a case study on Professor Brendon Bain, who was dismissed from his post at a university because of his views against changing buggery laws in Belize.
Advocates Caribbean is one of several global affiliates of Advocates International, which together have 40,000 members in 158 countries. It encourages a global network of skilled professionals committed to religious liberty, human rights, conflict resolution, reconciliation and professional ethics.(JSV)