Posted on
Three Vincentians recognized by SVG Consulate in Toronto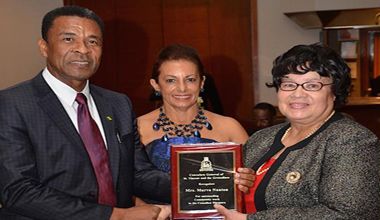 Three Vincentians received awards from the Consulate of St Vincent and the Grenadines for their sterling contributions in their various field of work, at a prestigious 35th Independence Gala in Toronto, hosted by the St Vincent and the Grenadines Association of Toronto (SVGAT) on November 1.{{more}}
Kenney Coombs, Marva Ollivierre-Nanton and Hy Ellis received recognition plaques in Art and Culture, Community work and Entertainment respectively, from Consul General Fitzgerald Huggins.
Kenney Coombs, born in Golden Vale, is an accomplished artist (acrylics on canvas), photographer, wood and metal sculptor, and other mediums, including batik. He is known primarily for his work in the annual Toronto Carnival (Caribana), as a former bandleader, costume designer and builder. Over the years he has won every competition in this festival, and is currently setting records for the most 'Queen of the Bands' titles.
Ollivierre-Nanton, born in Bequia, is president and CEO of Hossana International Outreach Ministries. The Ministry provides hot meals, clothing, medical supplies and other viable needs to people in Canada, the West Indies, including Jamaica, Grenada, Trinidad and Tobago, St Vincent and the Grenadines, multiple African countries, India and more.
Prior to founding the Ministry, Marva, who was trained to work in multicultural environments, served as an international missionary and evangelist for 15 years. She worked as a nursing professional for over 20 years, with special focus on palliative care, mental health and the elderly. Marva further expanded her gift of service by also working in hospitality industry for over 15 years.
Hy Erasto Ellis, born in Stubbs, started his entertainment business in 1999, called Foreignbase Promotion. He took advantage of the opportunity to bring Vincentian artistes and DJs to Toronto, hence creating employment for the musicians and entertainment for the Toronto Vincentian diaspora for the last 15 years. As he said in his own words "Vincentians who can't travel regularly can still touch and feel the best entertainers from SVG at least once every month."
Addressing the hundreds of Vincentians present, consul general Huggins reminded the audience about the importance of their contributions and remittances to their homeland.
"Your remittances and support for your country and family back in SVG is commendable, especially since the December 2013 floods. Your generous contributions to the fund-raisers to build a home for someone still in shelter were very successful. The SVG Ad Hoc Relief Committee raised over Canadian $35,000 and very soon someone will be placed in a house funded by you, the Canadian Vincentian diaspora," said Huggins.
Speaking about the awards and recognition, consul general Huggins opined "We have to recognize your contributions in a real and meaningful way. So, presenting a plaque to you, the awardees, is just an appreciation by the Government and people of St Vincent and the Grenadines, through the office of the Consulate. This is just a start and going forward, an awards committee will be formed from across the provinces where Vincentians live to make this recognition ceremony into something representative of the contributions by all Vincentians across Canada, not just Toronto."
The 35th Independence Gala saw performances by Carlos "Rejector" Providence, Kimya Hypolite and Curtis Vincent. SVGAT president Marcia Farrell delivered remarks and presented two scholarships to students in Canada. An inspiring feature address was delivered by Reverend Raymond Burnett of the Bethel Restoration Ministries in Toronto.