Posted on
Student nurses stage evacuation drill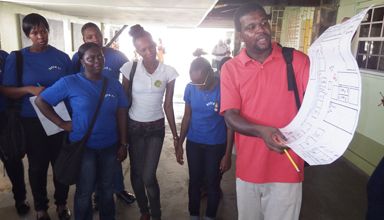 Fri, Nov 7, 2014
Thursday, October 30, 2014 was a good day for Third Year student nurses, as they almost flawlessly conducted an orderly evacuation from the Division of Technical and Vocational Education (DTVE).{{more}}
It took just one minute and 55 seconds to get over 400 students from five different buildings out of the College compound and on to the Sion Hill Playing Field.
According to information from the Division of Nursing Education (DNE), the purpose of the exercise was to assess the capacity of student nurses to prepare, direct and lead a group of students in performing and effective emergency evacuation.
The DTVE is prone to several hazards, including aerodrome accidents, tsunamis, fires and earthquakes, therefore the ability to evacuate safely and quickly is of paramount importance, hence the need for this training at this particular institution.
Earlier this year, Donald De Riggs, who is a guest lecturer in the area of emergency communications, provided the core information to student nurses in conducting orderly evacuations. De Riggs, who also served as an evaluator, said he was happy to see the student nurses conduct this training with little or no intervention and hoped that this and all other educational institutions conduct similar drills at least once per year, so that students know how to evacuate orderly to avoid injury or even death, while scrambling for safety.
Following the simulation, the nursing body gathered to evaluate their performance, looking at strengths, weaknesses, opportunities and threats in order to avoid mistakes in a real situation. Dean of DNE Suzanna Providence noted that the student nurses had done well, in that it was their first encounter with the College students; they had to teach them the evacuation procedures, do a trial run and within two hours actually stage a mass evacuation of the entire college in record time. Also commending the nurses during the evaluation was the dean of DTVE, Osborne Bowens, who noted that the success of this training was in part due to the maturity of his students, but more importantly due to the preparedness of the nurses.
The DNE conducts mass casualty management courses for its final year students annually and was coordinated by DNE tutor Raphael John, ably assisted by a corps of top level assessors. The DNE regularly enlists the support of specialist agencies like NEMO, Red Cross, Police and Rainbow Radio League Inc (RRL), among others, to provide skills and knowledge so that nurses can benefit from direct dialogue with professionals.
The dean and staff of DNE wish to thank all stakeholders, including the RRL, for their valuable input in making this year's event the success it turned out to be.
Report and photos by Donald De Riggs