Posted on
Courts surprises lucky customer with $8,000 cash prize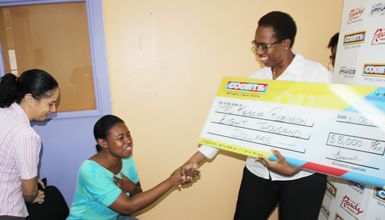 Kescia Robinson was so used to filling out promotional forms at Courts St Vincent Limited, that she thought that when she wrote her name on the last application a few weeks ago and put it in the box provided, that was the end of that.{{more}}
When the New Montrose resident got a call from Courts on Thursday to drop by the Kingstown store the following day to collect a "letter," she thought it was just another piece of paper informing her about another fabulous promotion and deal that Courts was having.
However, when she turned up promptly at 10 a.m. on Friday, Robinson got quite the surprise when she was greeted with balloons and a cheque for $8,000, which she had just won in the Courts Frigidaire Promotion.
Robinson said that the surprise from Courts made her day, as going home with $8,000 was the last thing on her mind.
"Usually Courts would call and say that they have this promotion or that promotion going on. I usually get calls, so I really, really did not expect this," an excited Robinson said with a huge smile on her face.
She said she didn't know that purchasing a Frigidaire cooler would have got her some "cool cash," which she said came at the right time for her and her family.
"I have a thousand things I can do with this eight thousand dollars.
"I have my final semester for my Bachelors in Pharmacy at the UWI Open Campus, so I can use it there, but I am going to try to fix some other bills here and there.
Robinson thanked the Courts staff for making her day and praised them for their excellent customer service and prices.
"I am so surprised, so shocked and so happy. Because I have been shopping at Courts for years and I have never really won anything so big before. I've been placing my name in so many different things, so this really comes as a shock.
"For me, the Courts customer service is excellent. The Customer Service Representatives try to work with you, even if you run into some difficulty. But they work with you and their payment plan is affordable at the end of the day," Robinson said.