Posted on
Vincentians in St Kitts-Nevis celebrate SVG's 35th anniversary of Independence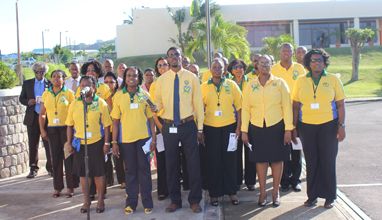 The Vincentian community in St Kitts and Nevis came together over the weekend to celebrate their country's 35th anniversary of Independence with a church service, luncheon and Flag Raising Ceremony.{{more}}
The church service was held on October 26 at the Word of Life New Testament Church of God, where the pastor is Vincentian Matthew Hepburn. Later that day, the Vincentians joined in true Vincy spirit for a luncheon at the Manhattan Gardens Restaurant, where they raised a toast to the nation.
On Independence Day, the Vincentians who work at the Eastern Caribbean Central Bank (ECCB) hosted a Flag Raising Ceremony on the premises of the Bank. The Governor of the ECCB, Sir K Dwight Venner, joined his fellow Vincentians as they celebrated the milestone in their nation's history.
During the ceremony, the group paid special tribute to a distinguished son of the Vincentian soil, the late Patrick Prescod, for his contribution to the development of music in St Vincent and the Grenadines, with a rendition of the hymn, "The Right Hand of God." Musical accompaniment was provided by Andel Jackson, Dr Ankie Scott-Joseph (one of Mr Prescod's music students) and Xadane and Kijaune Williams.