Posted on
PSU awards scholarships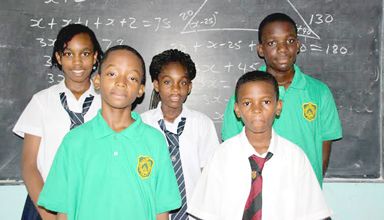 Five students, who are children of members of the Public Service Union (PSU), have been awarded scholarships by the PSU, which will run for a five-year period initially.{{more}}
Receiving an initial five-year scholarship at the beginning of the school year were Khalique Dick, son of Roxanne Dick; Keon Richardson, son of Oslyn Richardson; Rodonte Pompey, son of Ronelli Pompey; Angel Horne, daughter of Petra-Ann Mapp; and Ell-tia Thompson, daughter of Delta Thompson.
Dick, a former student of the CW Prescod Primary School now attends the Thomas Saunders Secondary School, while Thompson, who was a former student of the Layou Government School, now attends the Girls' High School.
Richardson, Pompey and Horne are past students of the Kingstown Preparatory School, with Horne now attending the Girls' High School, and Richardson and Pompey now students of the St Vincent Grammar School.
Following the initial five-year scholarship grant, students may receive a further two-year contribution, should they move on to the St Vincent and the Grenadines Community College.
The PSU has been awarding scholarships to children of its members for more than three decades, and according to second vice-president with responsibility for Public Relations Simeon Bacchus, the organization intends to continue awarding scholarships in the future, as this is ensuring that children gain some benefits as a result of their parents' membership in the Public Service Union.
The scholarship disbursement had been put on hold, pending the outcome of a legal matter between the Union and its former president, which ended in August, 2014.