Posted on
SVG's schools' thrift programmes best in region – Stephenson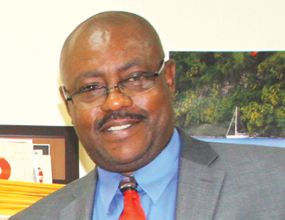 St Vincent and the Grenadines has the best practice in schools thrift programmes throughout the region.{{more}}
Students have saved close to one million dollars and Minister of National Mobilization Frederick Stephenson has called the amount of money saved by students a significant achievement.
Stephenson made these statements at the National Schools' Co-operative Awards Ceremony 2014 at the Peace Memorial Hall on Tuesday, October 14.
Stephenson expressed gratitude to all who attended the awards ceremony and to participating stakeholders in the schools co-operative programme. He paid tribute to students and teacher guides for developing the habit of thrift, which has allowed them to make outstanding savings of over 800 dollars.
According to Stephenson, the schools' cooperative system is in its 36th year. It remains one of the flagship developments in the Ministry of National Mobilisation.
Also, registrar of Co-operative Societies Cecil Jackson extended gratitude to teacher guides, parents, guardians, and credit unions that have supported the co-operative programme over the years. Jackson said that the co-operative programme continues to be a platform for entrepreneurship.
Representative and Marketing manager of St Vincent and the Grenadines Teachers Co-operative Credit Union (SVGTCCU) Ezekiel Richards stated that he is proud of the efforts of the co-operative societies in encouraging students to save. According to Richards, students have been outstanding in their savings.
Richards urged co-operative leaders to challenge children to bank on love and to cultivate love in whatever they do, even as leaders encouraged financial thrift. He congratulated the Co-operative Department for their achievements and saluted their efforts in organizing the day's events.
The most outstanding savers in the primary division in 2013-2014 are Aykeli Williams and Chloe Robertson of the Mustique Primary School. Top national saver and top secondary school saver for 2013-2014 is Ezana Henderson of the St Vincent Girls' High School. The second place for secondary school savers is Marvin Pierre of the Thomas Saunders Secondary School.
The National Schools Co-operative Awards Ceremony 2014 was spearheaded by the Ministry of National Mobilisation's Co-operative Department, in collaboration with the Ministry of Education, the St Vincent and the Grenadines Co-operative League, and affiliates (GECCU, KCCU, PCCU, BCCU and SVUTCCU), and the Ministry of Agriculture.