Posted on
SVG has ability to be major, competitive cocoa producing entity – Hadley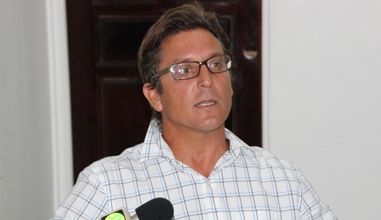 Andrew Hadley, the manager of the new St Vincent Cocoa Company (SVCC) says that he believes that this country has the ability to be a major, competitive cocoa producing entity — but it will take some time.{{more}}
Hadley said during a press conference on Wednesday, that there are distinct differences between the company that packed up and left earlier this year, and the one that he and other investors bought from the previous owners; Ecom Traders.
"The difference now is that we have local and foreign investors and three main shareholders with the company and they are directly involved in the company; been here, seen it, I am one of them working in it, so we have hands on feeling…."
Hadley disclosed later during the press conference that the three shareholders include his former manager at the old SVCC Ruth Maloney, an Australian and British Vincentian Harry Marret.
"But of course the main difference is that the aim of Amajaro was to plant at least 1,200 acres of cocoa a year, here in St Vincent… so you can see that the expectations were unrealistic in the beginning so, we are going to go much slower than that and we have to take it one step at a time."
Hadley said that the new cocoa company, armed with more realistic figures, intends to convert at least 150 acres of cocoa annually, which might be more difficult for individual farmers. He said to this end, the new cocoa company plans to lease lands from farmers as well as the government of St Vincent and the Grenadines to make their goals more realistic.
"We are trying to lease lands and plant cocoa ourselves, so that would give us an extra impetus….
"A typical example is somebody who has 35 acres, he has a job in Kingstown, he's let a man look after his land and he's only looking after two or three acres growing plantain, and the rest of the land is just there in bush, but we are saying we will lease his land, look after it, plant cocoa, and then hand it back to him at an agreed time where he could have a fully productive cocoa plantation instead of leaving your land there to just sit there and rot… we would use it productively and hand it back to the farmer."
Apart from planting cocoa, Hadley indicated that the company would also be purchasing wet cocoa beans from the current cocoa farmers, paying by cash or cheque 80 per cent of the expected final price the day after collecting the beans, and the remaining 20 per cent two weeks later.
Himself a cocoa farmer, Hadley said that he is highly confident and deeply passionate about the local cocoa industry, and sees, somewhere down the road, St Vincent and the Grenadines producing the 1,200 acres of cocoa that was envisioned by the old cocoa company about four years ago.
"It means a lot to me personally. I am a proud Vincentian and I would love to see it work at the end of the day.
"Because I think in the long run cocoa and to a longer term, fruit trees and tree crops are going to play a large part in the future of agriculture in St Vincent and the Grenadines… and if we can harness this opportunity now, I think down the road we will really benefit.
"Cocoa prices are going to increase; there is no doubt about it, demand for cocoa is outstripping supply. African producing countries are having massive problems because of civil wars, and diseases… so the demand for cocoa is growing all the time…."
The first St Vincent Cocoa Company closed its doors in July this year, after four years of operation in here.(JJ)