Posted on
Ju-C soft drink produced locally once more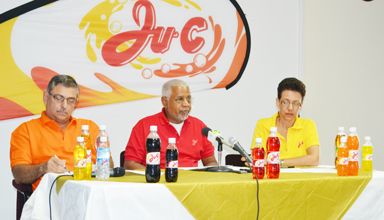 Just in time to celebrate the nation's 35th anniversary of independence, the locally-based East Caribbean Bottlers Inc (ECBI) has re-launched production of the carbonated beverage Ju-C, once a staple in most Vincentian households.{{more}}
The ECBI made the announcement at a press conference on Tuesday, October 21, where sales and promotion executive Rachel Haslam said that the company intends to restore Ju-C to its former glory.
"We consider these drinks – especially the Red Ju-C – as a national symbol, so we thought it very fitting to get out in the marketplace this week," enthused Haslam.
"It is our hope and intention to minimize the competition by having our product well distributed across the length and breadth of St Vincent and the Grenadines… so that persons choose our product over and above that of the competition," she affirmed.
In April 2011, Bottlers St Vincent Ltd closed its doors and, hence, ceased producing the beverage which, subsequently, was imported from Trinidad and St Lucia.
After acquiring the now-defunct company's assets in March 2014, ECBI aimed to have the locally-produced product back on shelves by Carnival – half the time that initial audits had estimated – but were unsuccessful in doing so.
"The challenges were great," said Haslam. "We didn't anticipate that it would be quite so difficult, but we must remember that the factory was dormant for four years."
Elvis DeRiggs, chief operating officer, said that new layout designs have been incorporated at the bottling plant at Campden Park, and it has also acquired new, more modern equipment.
"The plant had a lot of problems," explained DeRiggs. "We had to do a lot of repairs… It was not left in a state that you could easily get back up and running."
He also revealed that since ECBI, which is a subsidiary of the East Caribbean Group of Companies (ECGC), acquired the brand, there has been a huge demand for Ju-C, not only locally, but also regionally and internationally (North America and the UK).
At present, Ju-C is available in the original flavours Red, Orange, Apple, Pineapple and Banana, and also in the new Cola flavour. Additionally, ECBI has introduced Ju-C bottled water – assessing the possibility of producing flavoured water in future.
Haslam explained that ECGC has been producing Carib Pearl bottled water for many years now, and the company thought this would be a good opportunity to introduce another brand of bottled water to cope with the growing demands for it.
In 2015, the company will roll out more of Ju-C's original flavours, including Cream Soda and Ginger, and will also re-introduce the Village Ram energy drink (350 ml). The beverage is available in 350 ml and 600 ml PET (plastic) bottles, with a 1.75 L coming next year.
Haslam also revealed that ECBI is looking into diversifying its product range by introducing healthier beverage options in the long run. Haslam, DeRiggs and ECGC chief executive officer Osmond Davy will be attending a food and beverage conference in Miami next week, with this future development in mind.(JSV)