Posted on
Bottlers St Vincent employees' severance pay not an ECBI issue, says ECGC chief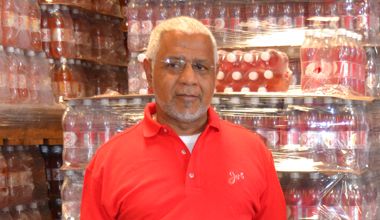 The chief executive officer of the East Caribbean Group of Companies (ECGC), which acquired the assets of the now-defunct Bottlers St Vincent Ltd, has said that ECGC is not responsible for paying severance to the employees who used to work there.{{more}}
At the re-launch of Ju-C, previously the flagship product of Bottlers St Vincent Ltd, on Tuesday, October 21, Osmond Davy acknowledged that the issues regarding severance pay still exist, but explained that "those are not issues of East Caribbean Bottlers Inc.
"The receiver has the responsibility, based on law, to address the issue of severance of former employees," said Davy. "We purchased only the assets from the receiver, not the liabilities."
He further mentioned that the former owners are having dialogue with the union that represents the former employees to discuss severance pay.
"It is not something that is being ignored."
Davy said that East Caribbean Bottlers Inc (ECBI), a subsidiary company of ECGC, has so far engaged 40 employees, 18 of whom were employed by Ju-C's former producer. Another 10 – 15 employees will be contracted to work in a two-shift system as production increases.
ECBI is now charged with manufacturing the popular carbonated beverage which, since the closure of Bottlers St Vincent Ltd, had to be imported from Trinidad and St Lucia.
Davy explained that now that Ju-C is being produced locally again, additional tariffs will be imposed on the Ju-C that comes in from overseas, making ECBI's pricing "very competitive".
"What we have to look at also is product differentiation in terms of taste or quality," he insisted. "We feel strongly that we would be producing a better quality and a better tasting product than what is being imported from Trinidad."
He further pointed out that the company's quality assurance department is endeavouring to ensure that Ju-C's taste is as good as, and even better than, what Vincentians remember.
Davy proudly stated that this re-launch of Ju-C not only brings back a household favourite, but also creates jobs for skilled and unskilled Vincentians.
"We are increasing productivity," he asserted. "We are going to be another major employer… and employer of choice in St Vincent and the Grenadines.
According to ECBI chief operating officer Elvis DeRiggs, the product will be sold directly from the bottling plant to distributers at a minimum purchase of 10 cases, with volume discounts also being offered.
The plant has moved away from glass bottling to plastic, in what Davy described as an economic and aesthetic decision.
"The norm in beverage production today is to use plastic bottling," he added.
DeRiggs also mentioned that for those concerned about the environmental repercussion of using plastic, the bottles will bought back at market value. Moreover, a lot of chemicals are used in the sanitizing of glass bottles, so it isn't necessarily more environmentally-friendly to use it instead of plastic.
In addition to flour, feed and rice mills here in SVG, ECGC's assets also include a rice mill with 1,000 acres of farmland in Guyana (acquired in 1991), and another rice mill in Montserrat (acquired in 1995) – which Davy claims makes SVG the first OECS country to venture out of the OECS to conduct business in the wider CARICOM region.