Posted on
Digicel signs Team Energy Overload as Digicel's Ambassadors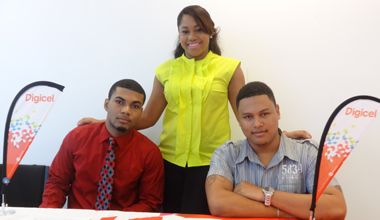 Team Energy Overload, the dynamic disc jockey duo of Charles 'Colombian' Villarreal and John 'Captain John' Rickards, are now Digicel brand ambassadors.{{more}}
On Wednesday, October 15, the duo signed as Digicel brand ambassadors during a ceremony which was held at Digicel's corporate offices, located in the Lewis Building on James Street.
Commenting after the signing, Captain John, who is also a physics teacher at the St Vincent Grammar School and a Hot 97.1 FM radio DJ said that he and Colombian were proud to be called Digicel ambassadors.
"We are bringing our youthful talent to Digicel," said Captain John, who stressed that they got their name, Team Energy Overload, because of the way they deliver their performances, "the youthful energy behind our performances."
The up and coming act said that they do not challenge other DJs, but instead challenge themselves to be better at every performance.
The duo speaks of a wide regional mix, as Colombian is really from Colombia and Rickards is a Jamaican.
"It's a fusion, a Colombian, Jamaican and Vincentian mix in one package," said Captain John, who started playing with the turntables at age 11 when he came to St Vincent.
Colombian, the voice of the DJ act (also a recording artiste) is a graduate of the St Martin's Secondary School, while Rickards is a graduate of the school he now teaches.
Colombian, who declared that his true passion was always to be a radio broadcasting personality, said that he is happy to promote the Digicel brand, as it is a strong brand that is community oriented. He is also a former teacher, having taught Spanish and Information Communication Technology at the Intermediate High School. He is also employed at Hot 97.1 FM.
Marketing executive at Digicel Danielle Cupid said that Digicel signed Captain John and Colombian because they are young and upcoming talents that appeal to the youths in a positive way.
"They are very positive young DJs, a perfect match with Digicel and perfect brand ambassadors," said Cupid.
The duo has performed at various national events both on mainland St Vincent and on Union Island and Bequia.