Posted on
Cuba sends health professionals to aid Sierra Leone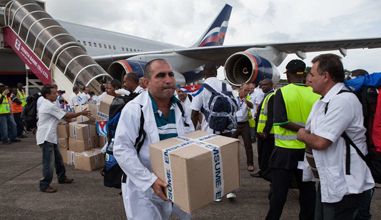 Tue October 21, 2014
Doctors in West Africa desperately need support to establish isolation facilities and mechanisms for early detection of ebola cases.{{more}}
More than 400 medical personnel have been infected and about 4,500 patients have died. The virus has shown up in the United States and Europe, raising fears that the epidemic could soon become a global menace.
With technical support from the World Health Organization, the Cuban government trained 460 doctors and nurses on the stringent precautions that must be taken to treat people with the highly contagious virus. The first group of 165 professionals arrived in Sierra Leone in recent days.
José Luis Di Fabio, the World Health Organization's representative in Havana, said Cuban medics were uniquely suited for the mission because many had already worked in Africa. "Cuba has very competent medical professionals," said Di Fabio, who is Uruguayan. Di Fabio said Cuba's efforts to aid in health emergencies abroad are stymied by the embargo the United States imposes on the island, which struggles to acquire modern equipment and keep medical shelves adequately stocked.
In a column published last weekend in Cuba's state-run newspaper, Granma, Fidel Castro argued that the United States and Cuba must put aside their differences, if only temporarily, to combat the deadly scourge.