Posted on
PM Gonsalves stands firmly behind decision for Marshall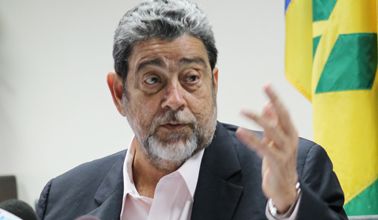 It is Prime Minister Dr Ralph Gonsalves' hope that Sehon Marshall will occupy the post of Deputy Consul General in the Consulate of St Vincent and the Grenadines in New York, by the end of this month.{{more}}
Last month, when it was revealed that Marshall was government's choice to fill the diplomatic post, some Vincentians living overseas protested, because of comments Marshall had made on radio a few weeks earlier, about Vincentians in the diaspora, who were working as baby sitters and dog walkers.
At a press briefing earlier this week, Gonsalves disclosed that Marshall is still expected to fill the diplomatic post.
"He will go. As I said the last time I addressed this question here, I do not intend for Sehon Marshall to be pushed under the bus," Gonsalves said.
"Look, Sehon Marshall is qualified. Sehon Marshall misspoke and I express regret of his misspeaking. He himself subsequently went on radio and apologized for his words."
On September 17, Marshall appeared on the Voices radio programme on WE FM, hosted by Jomo Thomas, and apologized for his remarks.
Gonsalves acknowledged that there were persons who felt that Marshall, a former co-host of "Morning Scoop" radio programme on Star Radio, should no longer be sent to fill the post, but the Prime Minister opined that a vast majority also thinks that Marshall should go.
Furthermore, Gonsalves declared that he stands firmly behind his decision and will not deny Marshall a position because he made one mistake.
"Anybody who wants to damn me for sticking with Sehon Marshall on this thing, damn me. I'm not running him under the bus," he said.
"I have heard nothing to change my mind on the subject and I have given my views honestly."
Gonsalves stated that Marshall comes from "the bosom of the working people" in Chateaubelair and stressed that diplomatic posts should not be reserved for certain classes of persons only.
"I have certain sympathy also for him. He comes from the poor and working people. He's a country man. He comes from Chateaubelair, the bosom of the rural community. It's not easy for persons like those to rise. Working people, people from the rural areas, must I first of all, every young person who makes an error that I don't give them a chance?" the Prime Minister asked.
"When I go to Chateaubelair, in the general elections, I'm going to tell them that Patel Matthews and Arnhim Eustace wanted me to deny a son of the soil in Chateaubelair, a man who comes from the working people, the bosom of the working people, by dint of his hard work and enterprise, reach where he has reached, not yet 40 years of age, made an error, said he's sorry, learned his lesson in my judgment; that I must run him under the bus for that?"
Gonsalves expressed his desire to see Marshall's appointment take place before the end of October.
"I certainly would like to see the appointment process before the end of this month. I'm hoping so. I'm hoping it will be processed before the end of this month," he said.